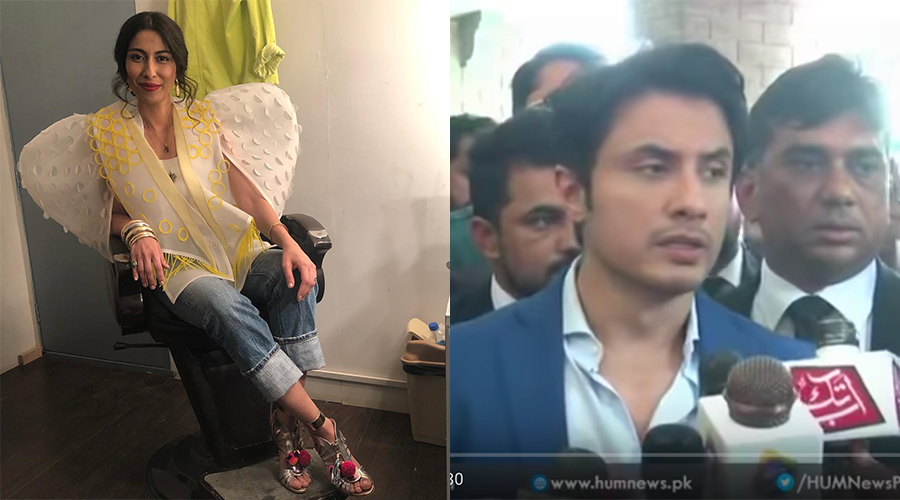 In April 2018 Meesha Shafi alleged fellow actor/singer Ali Zafar for sexually harassing her a couple of times, things got worse when the feud reached court dividing the entertainment industry into two groups where one group stands strong with Meesha and the other with Ali.
Meesha failed to provide any solid proof to the court in support to her case filed against Ali and due to her continuous non-appearance in the court; Ali Zafar filed a 1 billion defamation suit against her. After almost a year the case has still not resolved properly but has led to few controversies in the industry.
Taking about the much hyped Lux Style Awards, some protested against their projects being neglected but a major roar was from a huge number of celebrities who turned down their nominations and decided to boycott the award show over the nomination of an alleged harasser (Ali Zafar).
It started off when model Eman Suleman triggered tons of pullouts including makeup artists, filmmaker Jami, model Rubab Ali, fashion brand Generation and of course Meesha Shafi who is actively supporting these all on twitter and showing her disappointment for fellow actors/models who are thanking the jury of Lux Style Awards.
As this all was getting heated up there comes a twist as Ali Zafar finally breaks his silence over the Lux Style Awards controversy where he himself is nominated in the Best Actor category for his movie Teefa in Trouble.
"I was targeted through organized plan for personal gains" – Ali Zafar
Speaking to the media outside a session court in Lahore (along his wife) he said that Meesha's case has been dismissed and he is not guilty in the eyes of law. Ali said he is actively following up his defamation case against Meesha and urged that the court should decide it speedily so that his truth and honesty and Meesha's false allegation is revealed to the world.
My statement and media talk outside session court in Lahore https://t.co/7E21xX7ViH #FaceTheCourtMeeshaShafi pic.twitter.com/5YqfV1ILH6

— Ali Zafar (@AliZafarsays) April 27, 2019
The actor broke silence on the controversy and addressed the media outside the sessions court.