Share this
Ali Zafar and Meesha Shafi's feud is back to December 2017!
On 1st May, 2019 Meesha's legal team and Nighat Dad sent Ali Zafar a 2 billion defamation notice and demanded a public apology. Nighat Dad shared the notice on social media calling Ali Zafar's defamatory statements false.
A legal notice has been served to @AliZafarsays against his false, malicious and defamatory statements against our client @itsmeeshashafi on multiple National TV channels. #MeToo pic.twitter.com/1ofo1KNhDb

— Nighat Dad (@nighatdad) May 1, 2019
Barrister Ambreen Qureshi just turned the whole situation and took on twitter to post Meesha and Ali Zafar's chat in a  WhatsApp group created by the organizers of the concert where she is thanking them all including Ali Zafar for a great event.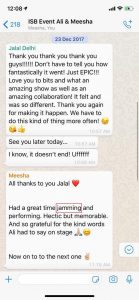 Here is the screenshot of Meesha Shafi's message to Ali Zafar that she denied on National TV. See for yourself.

Truth always prevails

#Alizafar vs #MeeshaShafi pic.twitter.com/rOXtwu88P5

— Barrister Ambreen Qureshi (@ambreenqureshi) May 2, 2019
Truth always win. #AliZafar vs #MeeshaShafi pic.twitter.com/0vqkzvUO3v

— Barrister Ambreen Qureshi (@ambreenqureshi) May 2, 2019
Four months after this event which was held in December 2017, Meesha Shafi claimed of being sexually harassed   by Ali Zafar. She stated that this was the first concert where he harassed her and he kept on harassing her on several other  events.
For now it seems as if Meesha is in trouble and we think she needs to come up with some good, solid proofs in support to her case against Ali.
"When truth is hurled against falsehood, falsehood perishes, for falsehood is by its nature bound to perish." Quran 17:81 https://t.co/QmheCQfh8V

— Ali Zafar (@AliZafarsays) May 2, 2019
Share this