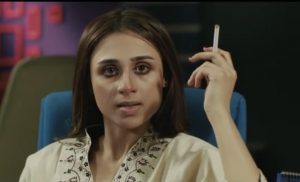 Mashal Khan took to social media to share the very first look of her character from her upcoming web series in collaboration with Urduflix called 'Lifafa Daayan'. Watch the teaser here.
She shared a brief teaser in which she is shown supporting a powerful avatar – perhaps that of a public figure. The Suno Chanda actress is seen smoking a cigarette with trembling hands and stern facial expressions suggesting a powerful theme of the series.
She delivers a powerful one liner in the teaser, "Agar ap adjust nahein ker saktay, toh Alina Ali bhi adjust nahein ho sakti." (If you cannot make an adjustment, then neither can Alina Ali.)
The teaser suggests that Mashal Khan will be supporting a role that of a headstrong woman who knows what she wants and knows how to take a stand for herself.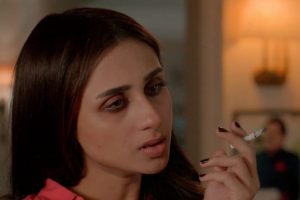 Only time will tell what truly is the theme and plot of Lifafa Daayan. Fans and followers of the actress are ecstatic and are looking forward to the release of the web series which is expected to release later this month.
(Read more on Lifafa Daayan here.)
What did you think about Mashal Khan in Lifafa Daayan's teaser? Let us know by dropping a comment on our Instagram!
Until next time!