The minds of Pakistani audiences can never fail to amuse us and how quickly they fly down like vultures to police women and their bodies. Seems like after attacking Alizeh Shah viciously for exercising her choice to wear a simple tank top in a music video, the trolls have decided to take Mahira Khan as their next target.
Mahira Khan was captured attending a protest in Karachi where she was seen without a dupatta. On social media, rather than applauding the actress for actively stepping out and protesting for human rights in the street, trolls and their misogynist minds couldn't fathom how she could forget her dupatta in the process?
View this post on Instagram
For example, this user needed to both age shame Mahira by calling her "aunty" and troll her for exercising her free speech to bravely demonstrate against human rights abuses while he lounges away in his room. Bhai sahab, age is just a number and it has never been something that became a barrier between Mahira and her success. She will be stunning the audiences well into her seventies because her hard work and successful career speak volumes about her.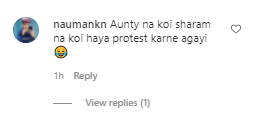 Another very concerned man seems to think he is rightful to criticize Mahira for destroying the minds of Pakistani Muslims as she dared to venture outside without a dupatta! Ah yes sir, a woman bravely marching down with countless other people on the streets and advocating for the end of fascism is the one bringing shame to the nation.

The whole world is largely focused on a protest that is about bringing attention to an unjust war that is killing innocent human beings, yet the sole interests of Pakistani men will be to silence women and police their clothing. These two men assume they are rightful for completely shutting down the fact that Mahira is using her privilege and platform to bring attention to an unjust war, but instead think she has no haya for not observing pardah or wearing a dupatta over her head. Alright sir please tell me how you accomplished anything for human rights by criticizing a woman for not wearing a dupatta?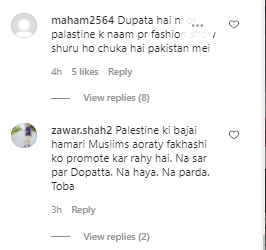 In the end, we would like to remind all of Pakistani men this: Mahira Khan or any other woman in this country does not owe you an explanation for how she dresses or where she goes. Instead of shaming her for the way she dresses, what is largely revealing about this entire fiasco is how mindlessly obsessed Pakistani men are with what women wear that they will completely ignore the fact that a larger issue regarding war is going on, and they're not making any productive contributions at all.