Mahira khan and her six yards of elegance have made a regular appearance on our news feeds. In Pakistan, a Sari has always been a fancy and prized item of clothing mostly worn at weddings and formal events. However, it has never been normalized enough to be casually worn at work.
While promoting her movie Supertsar, Mahira Khan was seen adorning Sarees at various events. The overall effortless vibe and her ability to style them in multiple ways really provides us great style inspiration for a day at work.
First up, Mahira can be seen wearing a breezy white floral saree from the fall collection of Rehstore. Paired with a camel coat and pearl drop earrings, she looks ravishing redefining Saree styles.
https://www.instagram.com/p/B1Mfl7ahkcu/
At the superstar fan screening in London, the actress was seen strutting in a black ZAHA Saree paired with an exotic blouse from the collection "Wild Things." This time round she goes for a saree without a fall, which makes it easy to carry but looks chic nonetheless.
https://www.instagram.com/p/B1Y3MmaBJIX/
Looks like we can find Mahira wherever the wild things are!
At another promotional event, Mahira opts for another wild print ZAHA saree with a basic black top with a collar and cuffs. Coupled with a nude lip and lots of mascara is this look perfect for work or what?!
https://www.instagram.com/p/B0RuoE8hoWH/
Another favorite is this white self printed white saree with a crochet blouse from BehbudBoutique. This look literally screams summer and her larger than life smile keeps us hooked to this shot.
https://www.instagram.com/p/B1RonN4Bq1o/
Last but not the least, Mahira wore an off-white tissue silk Saree with a tight bun and winged liner. While Mahira opts for a heavy emerald necklace, we could pair it with gold studs or hoops to make it more wearable for work.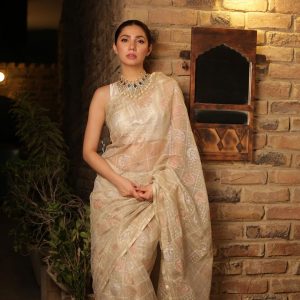 Experimenting is key! Saree is a statement making piece of clothing on it's own, pairing it with a blazer or an electric print is only going to make it look more edgy.
We are all for it, let us know what you think!