Share this
O' Ophelia. A Bridal couture collection , withstanding the test of time.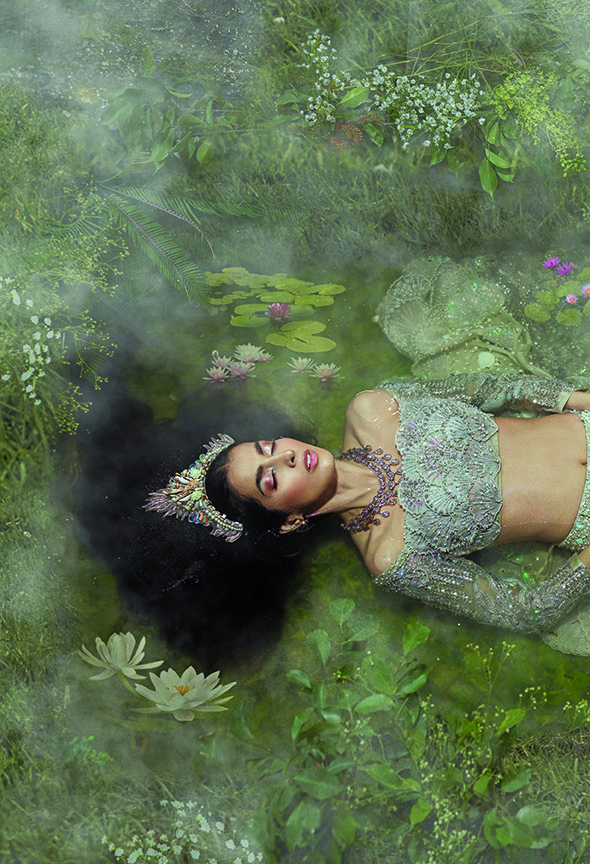 Madeeha Sohaib believes in bringing couture back with it's original craftsmanship and has been mastering her art for years before launching her debut collection. This collection encapsulates the essence of Haute couture, weaving the element of timeless elegance at every stage of the execution.
What was the inspirational journey behind this collection, and was the vision encapsulated precisely in the shoot as well?
I believe nature is a creation and the natural process within it manifests each moment in a unique balance and rhythm, which is a masterpiece itself. When I see people with distinctive expertise in their crafting processes, as they complete and complement the very collage of the ecosystem, it creates a certain magic and it fascinates me the most. Haute Couture is my language of communicating with the world around me. I treat each piece as my canvas which gives me the liberty to play with different mediums, colors and textures while keeping in mind the wearer.
This bridal collection represents mermaids that are persevering the dying legacy of our beautiful sea-life. Lost on an enchanted island the alluring mermaids are hoping that the fate of the forest is unlike their own. They do not want the forests with all their glory to become myths just like the mermaids have become today. And this vision is perfectly epitomised in the shoot as well, representing the major partners and companions of the ecosystem.

What is the idea of a classic Madeeha Shoaib bride, and how many clients come in looking for the same vision on their big day?
A classic Madeeha Shoaib bride is confident, environmentally aware and culturally connected to her roots, yet uniquely innovative and an expressive global citizen. She is equally comfortable in her dress as she is in her skin. Her dress speaks about her adaptability to diversity. I have been designing bespoke dresses for brides and grooms of diverse backgrounds. A wedding dress is the first expression communicated to the spouse's family. My dresses are for the true couture lovers who not only want to look beautiful but also want to celebrate timeless classics with well-thought intricate hand embroideries for their big day.

What makes an impeccable couture piece at your studio? And how many hours can one piece take from inception to implementation?
When I conceive a concept, it calls for a rigorous theme exploration. A mix of unaccompanied and group brainstorming sessions shape my ideas about the cuts, pattern, color palette and motifs. Then I fully visualise the whole dress and convey my idea to the craftsmen and assign roles and responsibilities. At that time, I am like an orchestra conductor in the process of creating a symphony. The designing process is very close to my heart and is actually a spiritual process which keeps me going. I maintain a small team of passionate professionals who bring only positive energy and progressive attitude to the studio. This is only possible after a careful hiring process. My team always tries to go an extra mile for my clients who assign us responsibility for their special day. An average couture bridal piece, being crafted by a team of 20 – 25 artisans,  can take anything between 4000 to 9000 man-hours from inception to completion.
Having bridal pieces that are water repellent, what awakened this idea and how does it reflect on the costs?
While studying Bridal wear in Advance Couture -design in Toronto, I came across the term "trash the dress" also called fearless bridal for Bridal Underwater shoots. that was the moment when the idea of fearless bridal stuck me. So we came up with both kinds of ensembles, water repellent with treated embellishment and non-repellent fabric with treated material . These dresses have a few limitations and come with a few restrictions that need to be followed. It is something innovative for the clients who opt for destination wedding on an exotic beach or planning some underwater bridal shoot . Such dresses may increase the price tag but are better than trashing your dream dress which holds your lovely memories and has high emotional value.
What is the price range for this collection?
Well, the good news is that the starting price is commensurate with the market price. As is well known, cost of a hand embroidered, hand crafted couture is always higher than the run of the mill machine made bridal. My dresses, being completely hand crafted, could probably be a shade costlier than the machine made bridals, which I believe are not bespoke in the true sense. Our client can own a fine haute couture piece, hand embroidered and crafted with 70 to 80 different varieties of materials and stitches, in the same price as a multi-head embroidered fast fashion dress sells for.
Ashna Khan is a photographer known for creating surreal images, how was it working with him and how far do you agree, editorial shoots should be telling a story rather than just product coverage?
My collection had a story to tell while simultaneously displaying the intricate details of the dresses too. Ashna's work speaks for itself as he is a very passionate photographer who needs no introduction to the Pakistani fashion industry. The main reason for choosing Ashna for my shoot was that he has a mindset of a creative artist with fine photographic skills. The best thing about his photography is that you can not tag his shoot to a certain type. His work has a unique blend of creativity, story-telling, mood and product, all under an artistic overhang. I was very lucky to have him shoot for my dresses. It was a challenge for him as well but his energy and perfection pulled it through. He has once again raised the bar by illustrating the concept and story of the ecosystem on an enchanted island while balancing the mood and the product.
Are you excited about being on the cover and collaborating with Niche Lifestyle magazine? How was the experience for you?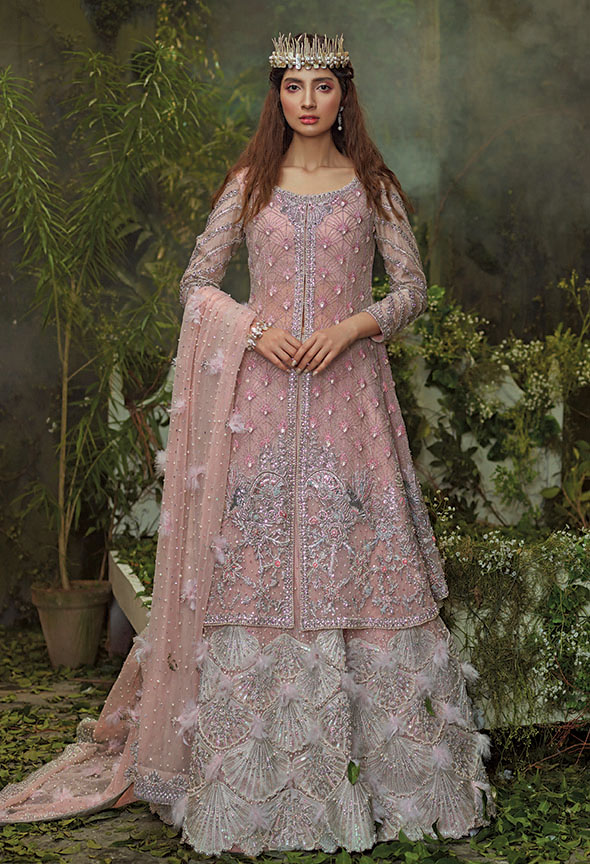 Yes, it was a pleasant surprise and a great sense of recognition when I heard that my collection was selected for Niche Lifestyle magazine. They are a brilliant team of creative minds who not only explore latest fashion and lifestyle trends but also handpick multiple wedding resources which helps brides and grooms plan their special day efficiently. My experience collaborating with Niche Style magazine has been exceptional.
We've noticed some very interesting silhouettes in this collection, are you a believer of sticking with traditional silhouettes and patterns for bridal wear or you'll always be pushing boundaries, experimenting with new things?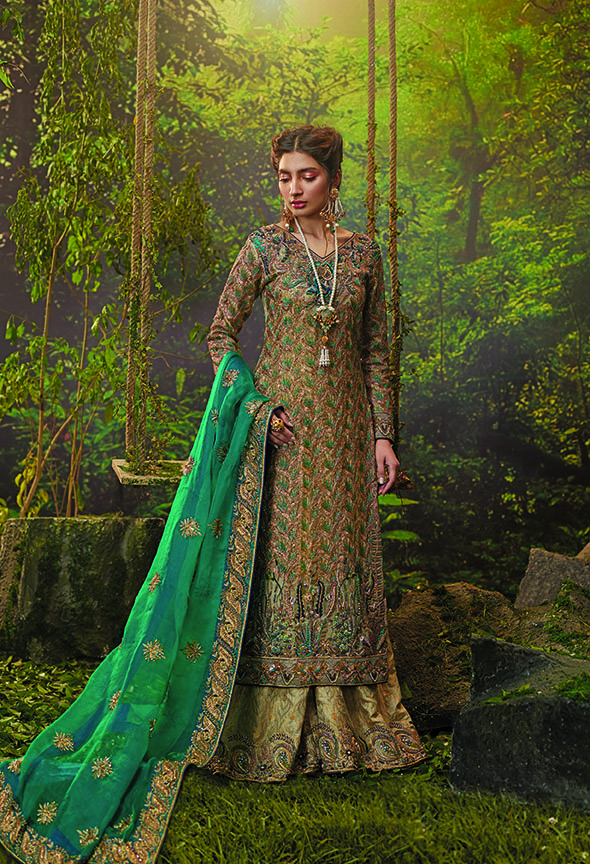 Since childhood I had an eye for art and design. I loved designing clothes for myself and the whole family. I learned my basics of designing from College of Home Economics, Lahore and NCA. Following that I did my advance couture designing from Toronto which exposed me to the western way of constructing gowns and suits. Toronto being a truly cosmopolitan city, my clients were from different cultural backgrounds. This gave me an opportunity to exercise my passion for bespoke couture pieces for a genuine multicultural society. I have created an uber-cool range of contemporary bridal dresses blended with western silhouettes, for women with a yearning for fusion wear. I like to rewrite the rules by pushing boundaries for the 21st century bride, incorporating color and customisation with a hint of glamour. You will always witness dramatic and daring experimentation in my dresses challenging the boundaries of contemporary, run of the mill bridal designs.
Share this