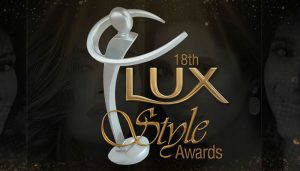 Lux Style Awards issued an official statement after a number of eminent celebrities turned their nomination down and decided to boycott from the award show to show their solidarity with harassment victims.
The statement read that "the Lux Style Awards nor Unilever Pakistan has ever intruded into the independence of the jury's position", the statement added, "In 2019, the Lux Style Awards have been surrounded by dialog around nominees involved in a matter of sexual harassment. The LSA film jury joins the Lux Brand and Unilever Pakistan in condemning all acts of intolerance, discrimination or harassment."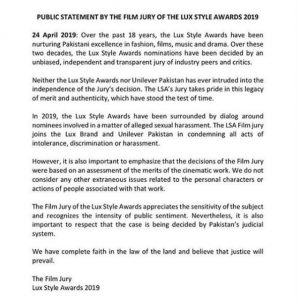 The backlash comes from the inclusion of an "alleged harasser" who was nominated for an award in one of the most prominent categories. Moreover, the LSAs are also being criticised for its movement of "Mein Bhi" in 2018, a campaign introduced on the platform to protest against the harassment – Pakistan's answer to the global #MeToo Movement.
Models Eman Suleman and Rubab Ali, clothing brand Generation, make up artists Saima Bargfrede and Fatima Nasir, and Meesha Shafi are some of the names who withdrew their nomination from the Lux Style Awards this week.