This past week has been nothing short of a full fledged Wedding Galore. Hassan Ali tied the knot recently and then a surprise wedding came in from Hamza Ali Abbasi. Imad Wasim also bites the dust and his wedding pictures have invaded our insta screens.
The all rounder who is also a front runner among the cricketers contending for Pakistani team's captaincy weds a Britsh Pakistani Saania Ashfaq.
Their festivities started off with a Nikkah where Sannia opted for a white dress and Imad was clad in a white Shalwar Kameez with a black self printed Waist Coat.
https://www.instagram.com/p/B1loWZGDOyK/?igshid=1q32mqlljzqkd
We love how simple Sannia looked with her light dewy makeup and fluttery lashes. To add a little oomph she tied the look with a red lip that looks oh so gorgeous on her!
https://www.instagram.com/p/B1jdSTrDV5g/?igshid=11zsmu5s5qd4z
For the 2nd event both attempted a relatively royal look and looked straight out of Jodha Akbar.
While Imad wore a gold Sherwani with a red banarsi Chaadar, Saania went for a heavily embroidered red lenhga with a gold blouse and gold jewels. What we really loved was that she didn't over do her make up for this event as well and went yet again for a dewy look with hues of Gold.
https://www.instagram.com/p/B1oi5hSD3bN/?igshid=18w5bvkha71ej
Imad wasim took instagram as a platform to thank all those who attended his wedding and blessed the couple.
Uzair Jaswal commented on how  great the event was and wished the couple well!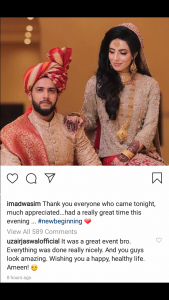 Saania Mirza also took to twitter to congratualte the new couple!
Congratulations Maddy .. wish you and Sannia the best ❤️ https://t.co/qGP2QOwbMJ

— Sania Mirza (@MirzaSania) August 27, 2019
All our best wishes for the happy couple!