Kylie Jenner: the reality tv show (keeping up with the Kardashians) star and businesswoman, is used to being the buzz in the news. In a recent post on her Instagram story (her handle has over 360M followers!), she called out Instagram originators for modifying the app so much that it has lost its original explication.
The supermodel was seconded really quick by Kim Kardashian.
Kim Kardashian has had the history of constantly being in the news and over social media. Netizens have been found bashing her over her obsession about her children's looks.
In a recent post on her Instagram story, the socialite was seen seconding her very own sister in a matter that related Instagram and its original sense.
The founder of kylie cosmetics feels like Instagram should not be conserved as a video or reel making platform, instead she just wants to see the cute pictures of her friends!
She wrote: "Make Instagram Instagram again". To make her point of view look like more of an appeal, she also added please to it.
Her sister was instantly seen supporting her.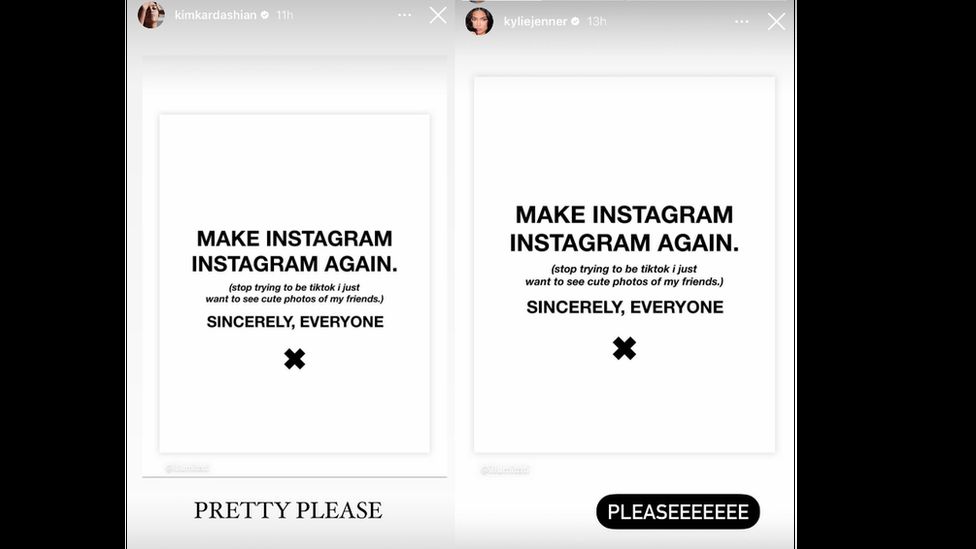 In response to the Kardashian-sister-correspondence, the platform and the media felt compelled to respond to it. The CEO of Instagram, Adam Mosseri on Tuesday, made a video regarding the app in which he addressed the new alignments in store for us. He also mentioned that measures were being taken to control the reprisal of certain issues.
👋🏼 There's a lot happening on Instagram right now.

I wanted to address a few things we're working on to make Instagram a better experience.

Please let me know what you think 👇🏼 pic.twitter.com/x1If5qrCyS

— Adam Mosseri (@mosseri) July 26, 2022
The preceding Facebook executive also said that Instagram will bring back more of options for the photo section and improve it otherwise but he also hopes for it to grow furthermore as a video-based creating origin due to general consumption of users overall in 2022.
People seem to disapprove any update in this regard.
we don't wanna make videos Adam lol

— chrissy teigen (@chrissyteigen) July 26, 2022
As many people also complained about getting unwanted posts and content on their "for you" sections, Mosseri also talked solving this hitch. He said that the "recommendations" feature is also being refined and they are working to present a better version of the app as the whole.
• stop showing me shopping posts on my discovery page

• give us the option to turn off recommendations completely

• stop forcing people to make reels and suppressing photo posts. People are posting slideshows to game the system and it sucks.

— Nichole 🍞🍯 (@tnwhiskeywoman) July 26, 2022
The users all across the globe are keenly waiting for all of it and they seem to pretty much agree with the Kardashians too.
We all eventually have to keep up with the Kardashians you know!
Romaisa Qureshi.