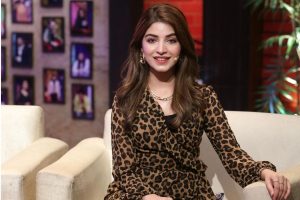 Kinza Hashmi made an appearance on the Mazedaar Show, hosted by Faizan Sheikh & Aadi Adeal Amjad on TV One where she shared her views on getting married as recently many celebrities have tied the knot including Minal Khan who is Kinza's very close friend.
We have noticed that in these past two years many celebrities tied the knot and many parted ways with their loved ones. Marriage has been a hot topic in these months as Malala also shared her views on marriage in an interview which took the internet by storm. Feroze khan also made an appearance in Ahsan Khan's show where he said that he thinks that marriage is a great learning experience and men should get married more than once.
On the other hand, Kinza while expressing her views on marriage said, " Marriage is not the only purpose of our lives, it is just a part of it. One should only get married when you think that you need a partner in your life." We completely agree with her and this is one of the best opinion we have come across on the internet from a celebrity.
Kinza has marked her name in the entertainment industry in a very short span of time and is known for her versatile acting skills. We wish her all the very best of all her future projects!
Here is a link to the interview: 
Let us know in the comments section of our Instagram page about your opinion!