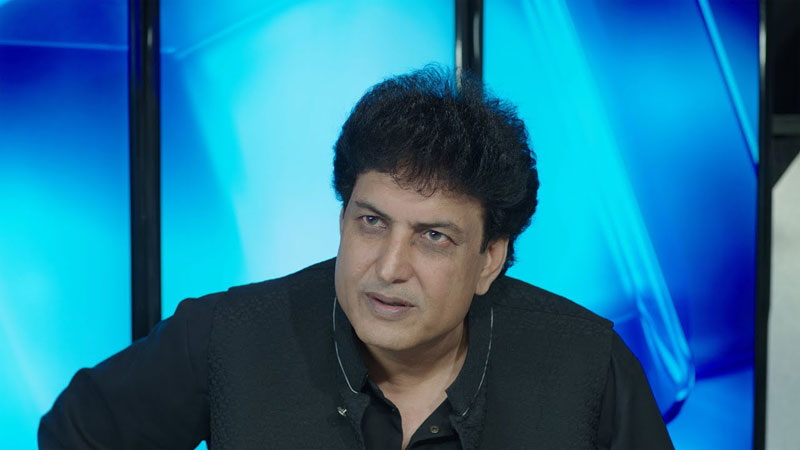 Just when we thought the dust had settled from the previous Khalil Ur Rehman controversies, we are hit with a new and rather a shocking one once again.
On a live talk show held on a local news channel the writer of popular drama serial Mere Paas Tum Ho swore at a fellow female guest, Marvi Sarmid who happens to be a well-known feminist, activist and analyst. He blatantly abused her on air, causing massive outrage among the audience especially when he showed no remorse whatsoever.
Watch the clip from the show below in Marvi's Tweet.
If such piece of crap was a playwright in a civilized media industry, he would have been boycotted and would be reduced to ashes. But this is our beloved Islamic Republic. The misogynist abuser won't have to face any consequences. He'd be welcomed by every media house. https://t.co/2AVOe15keR

— Marvi Sirmed (@marvisirmed) March 3, 2020
Here is what the Twitterati are saying:
I don't know what is more appalling; him calling her bi*ch, ullo ki pathi and all the comments about her body on live tv or all the men supporting him for doing it 🤢 #KhalilurRehman cancel this man already

— Mehreen Yousaf (@mehreenyousaf1) March 4, 2020
It's high time I put #KhalilurRehman on my muted words list. Ankhain pak gae hain is chawal pe tweets dekh dekh k 🤦🏻‍♂️

— Arslan (@NurKhairDey) March 4, 2020
I hv not seen such a JAAHIL insan like #khalilurrehmanqamar who the hell he think he is ? News channel invite him, so that he ends up uttering some nonsense and they can fetch some TRPs ! shame on tv channels & Khalil ! Disgraceful

— Nabeel Qureshi (@nabeelqureshi) March 3, 2020
NGOs are also the biggest weapon of enemy agencies in Pakistan. What weapons are women today who are spreading indecency in the name of freedom? #KhalilurRehman made him happy when he saw the facts.😂😂@ArfaBhutto786 @SanamBalochz @SeharKamran @DRMAHREENBHUTTO @RabiaUrooj5 pic.twitter.com/VBiRYVnhAq

— Pir Syed Shoukat Ali Bukhari (@BukhariSyed_PPP) March 4, 2020
Many celebrities like Mahira Khan, Sanam Saeed and Sherry Rehman have also expressed their disappointment and disapproval of Khalil Ur Rehman's behavior via Tweets!
I am shocked at what I have just heard and seen!! Sick to the core. This same man who abused a woman on tv is revered and given project after project because of what? We are as much to blame if not more for perpetuating this thinking! #khalilurrehmanqamar

— Mahira Khan (@TheMahiraKhan) March 4, 2020
I will not accept any show on @NeoTv_Network until this anchor apologises and this abusive man boycotted. If others ( men and women ) do the same when asked for shows this kind of disrespect to women may not get impunity. Women's rights are human rights. Enough of this nonsense https://t.co/YAJlmawCXF

— SenatorSherryRehman (@sherryrehman) March 4, 2020
What's scarier than #KhalilurRehman's temper, insecurities and mysogonistic attitude, is us who continue to encourage and engage him. Who cares if you're a good writer. You're a vile human being. Who speaks like that? What gives u the right to pass judgment like that? #Shameful

— Sanam Saeed (@sanammodysaeed) March 4, 2020
However some people are also supporting the writer leaving Twitter divided and starting a war between the fans and those who do not support the ideologies of Khalil Ur Rehman! Here's what they had to say in support of him:
Khaleel Ur Rahman Qamar Sahb, You have won the Hearts ❤️❤️❤️❤️ of Millions of Pakistanis through this 👇👇👇
These kind of people should be treated exactly like this,,,#khalilurrehmanqamar_we_salute_you #khalilurrehmanqamar #KhalilurRehman pic.twitter.com/COeKr7sD7U

— Muhammad Saad Aslam | محمد سعد اسلم 🇵🇰 (@msaadonline) March 4, 2020
He listened all bakwas of marvi.And in start he requested both the speakers to listen to him and not to interfere, then why did she interfere. Just wanted to play with his temperament as we all know @marvisirmed can go to any level to get some cheap publicity.#KhalilurRehman pic.twitter.com/j1qUef0cn5

— Mg Jillani◾ (@mgjillani) March 4, 2020
Khalil Ur Rehman has been under frequent limelight for landing himself in hot waters as a consequence of making uncalled for misogynist and insensitive views and statements!
Read more on Pakistani entertainment here!