Presenting Khaadi x Esra; My Symphony, one of the most awaited campaigns of the year, bringing forth a celebration of versatility and colours. A collection orchestrating the 'I' of every woman and giving her that symphony to rule the world.
Khaadi, a household name makes waves in the fashion scene with its collaborative campaign featuring the most sought-after Turkish star, Esra Bilgiç. When asked about, how Esra aligns with the identity of Khaadi, the team at Khaadi said, "Khaadi ethos celebrates a multi-faceted woman; strong, vibrant, independent and rooted in tradition. Esra complements the personality of a Khaadi woman."
A Kaleidoscope of Beauty
The collection itself is a mix of fabrics ranging from silk, chiffon and velvet rooted in heritage. It represents a woman who is confident and holds her in a good stead in an altered world. This particular campaign sets itself apart by presenting something new while staying true to its name.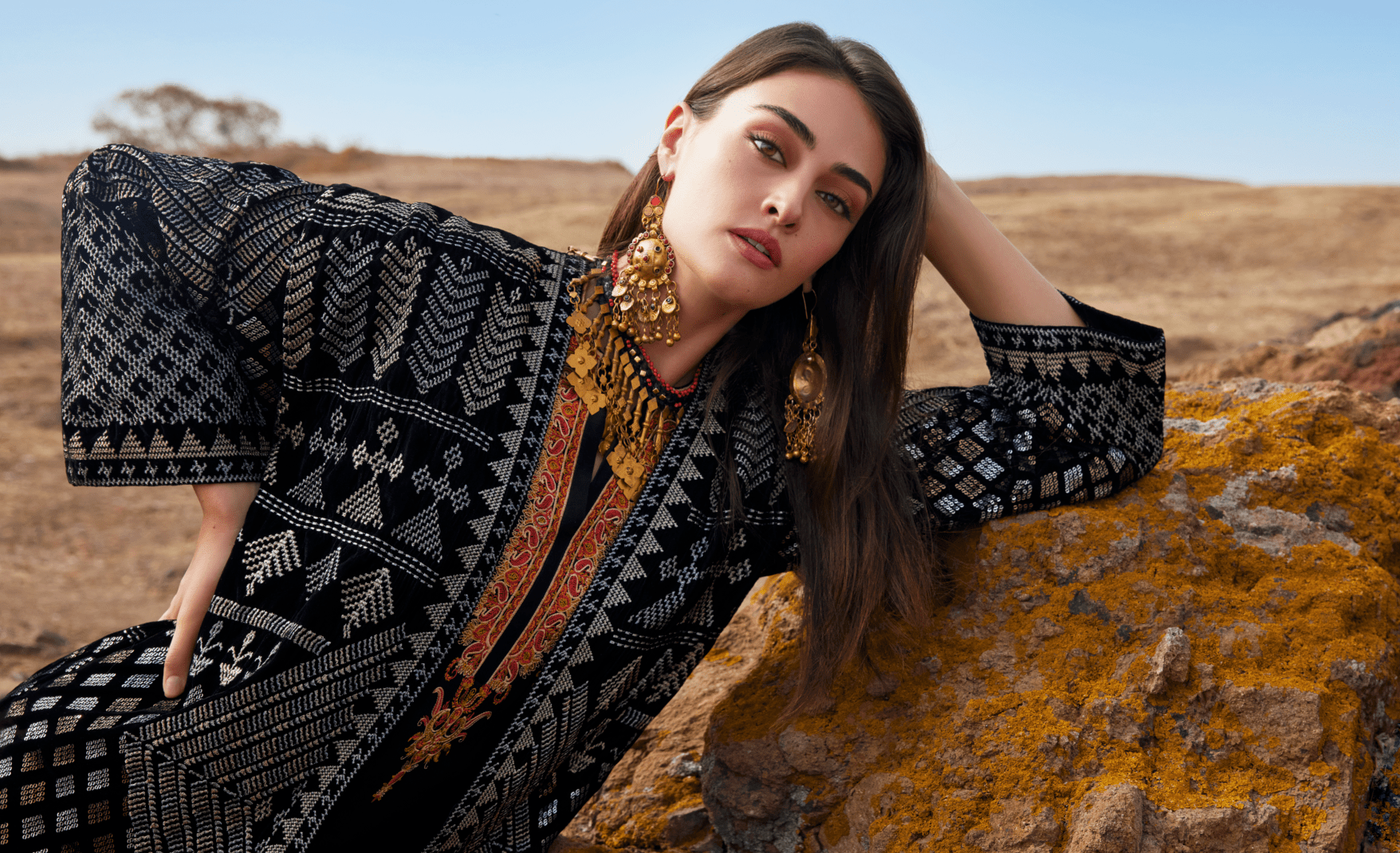 "This campaign has been conceived to position Khaadi as the leading fashion brand and to enhance the brand's equity. We embraced glamour, rooted in the authenticity of our culture. This collection took inspiration from timeless motifs, eclectic silhouettes, art and design references. It consists of decorative detailing, precise geometry, stark colour scheme, high contrast and oversized scales. The design influences ranging from vibrant patterns to intricate embellishments and accessories were curated to create a head-to-toe Khaadi look", said the team at Khaadi.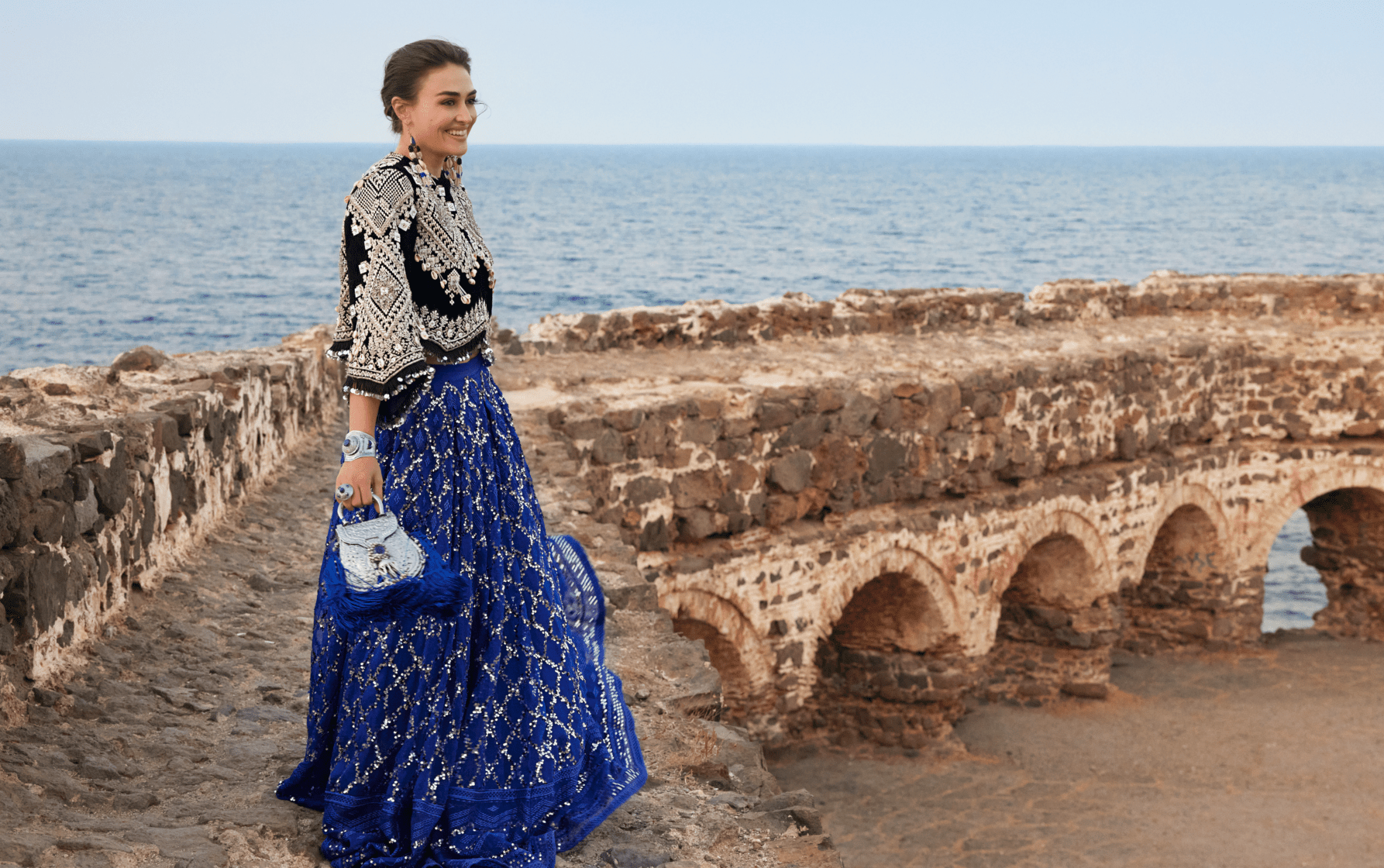 At a time when everyone is coming up with new ideas, Khaadi also decided to get creative by amalgamating their Khaas, Pret and Fabrics line into one collection. Thus, creating a kaleidoscope of beauty which resonates with every woman's personality.
The team at Khaadi shared, "Once the collection was in place, the vision for the shoot rolled out quite effortlessly, given a world affected by the pandemic."
Transcending Borders
Having an international star also speaks volumes of Khaadi's strength to take on the fashion scene globally and weaving its magic across the globe. It also shows how the two worlds met in an effort to create a campaign that strengthens Khaadi's brand image internationally.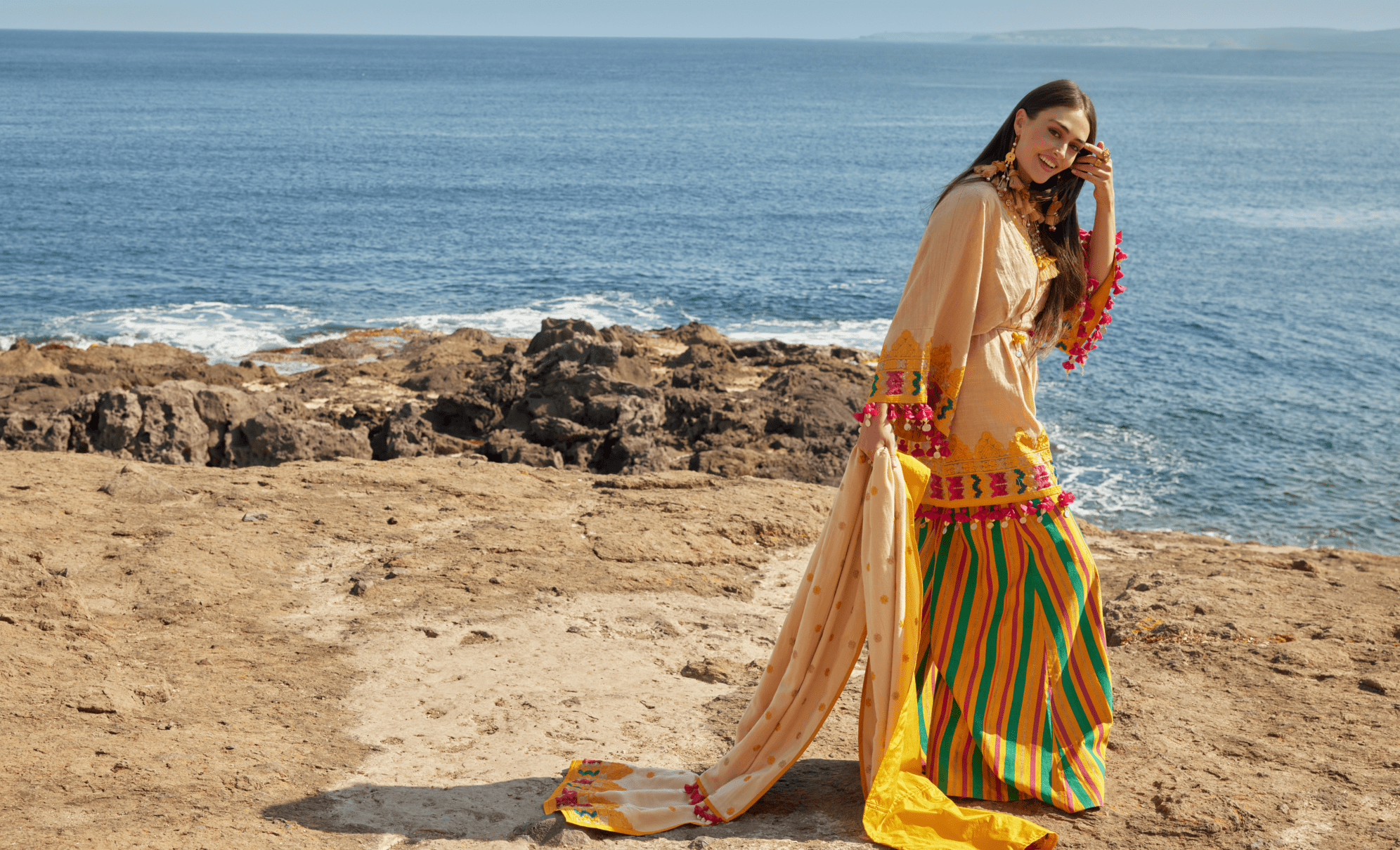 When asked about why there was a need to collaborate with Esra Bilgiç, the team at Khaadi responded, "Khaadi is a proudly Pakistani brand and celebrates a fusion of heritage and modern design inspired by global culture. 'Diriliş: Ertuğrul' garnered mass attention in Pakistan, and starred Esra Bilgiç at the heart of the series, making her the perfect muse for the campaign. Moreover, the campaign draws its creative vision from the fact that Esra as a woman is modern yet aware of her cultural roots."
The collaboration also speaks volumes of Khaadi's initiative to take it up a notch by putting a global star at the centre of its campaign. "Khaadi speaks the language of fashion that transcends borders. We wanted to position Khaadi on an international level appealing to a wider demographic. And given the popularity of Esra, we decided this was a good place to start."
Squad Goals 
Breakthroughs are only created by great teamwork and it holds true when it comes to Khaadi's first-ever global campaign. We asked the team to share their experience of working on a mega project. "It was fantastic, from early morning call times from a blast on set. We had very rough terrain on shoot, but Esra was a complete trooper. Positive energy on the set, fantastic teamwork took place. After the final shot and call for pack up, the celebrations were ending. We knew we had created something special". exclaimed the dream team at Khaadi. A truly special campaign which left its mark on the Internet proving the power that Khaadi holds as a trailblazer.
[Best_Wordpress_Gallery id="84″ gal_title="Khaadi"]