Kpop Pakistani fans are heartbroken today because the popular band BTS announced that they are taking a break from producing music as a group, and will be focusing on individual projects for the time being. In a video posted on their YouTube channel, the group members thanked their fans for sticking besides them for the ten years they have been active in the music industry, and promised that they will return once they have matured and have fresh new ideas for the music they will produce
Twitter users were still heartbroken by this news but were thanking the band for all the wonderful memories they had while they were together
Its not we armies are cryimg alone they also cry with us because they are also sad but im happy they do this 😭😭😭😭😭😭😭seeing namjoon crying ahhhhhh my heartue this hiatus show now how deeply we love them and stand with them till our moment come @BTS_twt 💜💜💜 pic.twitter.com/c5Udz61lI9

— SEOKJINIE (@marryiam_t) June 14, 2022
ARMY ALWAYS THERE FOR BTS💜💜💜🇵🇰
STAY BLESSED YOU ALL 😇
KEEP GOING ALL THE VERY BEST 💜💜💜🤗 pic.twitter.com/HaeiEbP5sH

— Nabiha Rasheed (@NabihaRasheed1) June 14, 2022
Happy birthday to love of our live The Legend BTS 🎂🎉🎁🎂🎉🎁congratulations to all my fellow armies we all are one because of them because of them even tho we are strangers but we have feeling of connection. Bts hamari jan
Cr to owner #9yearwithbts #BTS9thAnniversary pic.twitter.com/qXNcnf5gQu

— SEOKJINIE (@marryiam_t) June 12, 2022
I wouldn't be sulking over the fact they are going for hiatus. I will be waiting for their solo projects and yes waiting for the more stronger return of BTS 💜 #BTSFESTA2022 #BTSBestFriendsOfMyLife #BTSARMY pic.twitter.com/hLE6p3c3RR

— Mehak Haider (@Mehakhaider143) June 14, 2022
DEAR BTS!
Thanks for existing….. pic.twitter.com/Yl70BpNcbZ

— The H.M (@TheHM16) June 14, 2022
No matter what path you will take, armys are always with you 💜🥺 @BTS_twt pic.twitter.com/Xacgk4osPA

— 박히라 ♡ EB (@hira_park613) June 14, 2022
Even prominent personalities like Leena Ghani were heartbroken by this announcement, and shared on her Instagram account about how much the band meant to her and how their music inspired her:
"For ten years, BTS inspired so many with their music, lyrics, dance, words and most of all how they chose love and kindness over hate. Their love for each other and the army is so authentic, pure and rare, which is why they are not just a band but also a support system for so many and we have so much to learn from them. Taking a break to grow and focus on their solo careers is such a brave decision for a band that is at its peak. I will miss them but I am happy for the next chapter of their lives."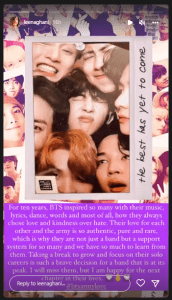 Farewell BTS! Thank you so much for all the memories and we hope to see you soon!