Junoon Just Announced That They'll Be Singing The 2019 Cricket Worldcup Anthem.
There is no doubt about the fact that the Pakistani music industry is full of talented singers, musicians and bands. However their creative spirits tend to be sky high once the cricket World Cup is near, producing some iconic songs during that time period. Personally speaking one of my all time favourites was the Strings version 'Hai Koi Hum Jesa' for the 2003 worldcup. Then again I'd see many people in Pakistan arguing in favour of Junoon's patriotic anthem 'Jazba' for the 1996 World Cup.
Now, 23 years later, the band is reuniting for a song for the 2019 Cricket World Cup. The band consists of lead guitarist Salman Ahmed and vocalist Ali Azmat. And honestly speaking, the 90's kid inside of me is jumping up and down in excitement, even though I'm not a kid anymore(sigh).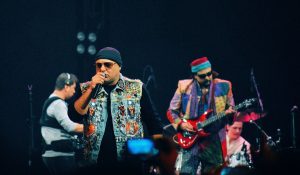 Image Credits: Masala!
Rockstar Ali Azmat shared the following news on social media:
" I am proud to share this news with you that Junoon is working together on a track for the first time in 15 years to support the Pakistan cricket team! Can't wait to share the final track and video with you once its released," the Sayonee singer wrote.
"This song is for all Pakistanis. For all its citizens, specially for the people who are marginalized," he added.
" We're reuniting for this World Cup. This track is for the Pakistani cricket team and it will do our nation proud," said Salman Ahmed.
I'm most definitely looking forward to this one, Junoon has been a music producing powerhouse, now lets hope that along with their song our team bring the trophy home. Best of Luck to the Lads!