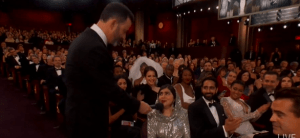 Award Shows are notorious for crossing the line of respect in the disguise of comedy and this years Oscars were no different. Technically, last year's ceremony stood out for a major reason but this year's ceremony had it's shortcomings as well.
Twitter is furious over the way celebrated host Jimmy Kimmel asked an unnecessary question to Malala and then went ahead to make fun of her name. Jimmy Kimmel  started by mentioning all of her achievements and efforts as an activist and her accolade of being the youngest Noble Peace Prize winner and contrasted it with a question on her views regarding the controversy if Harry Styles spit on co-actor Chris Pine while promoting their film ' Don't Worry Darling'.
Jimmy Kimmel awkwardly asks Nobel Peace prize winner Malala about Harry Styles getting spit on pic.twitter.com/q8LZLedtOc

— Gifdsports (@gifdsports) March 13, 2023

Our boss lady gave a precise and witty response as she answered his question with a one liner  saying 'I only talk about peace'.
Jimmy went ahead and appreciated her answer but concluded the exchange by making fun of her name saying 'the winner is 'MaLALA Land everybody'.
Scroll down to see netizens reacting to the whole episode.
JIMMY KIMMEL GET AWAY FROM MALALA pic.twitter.com/TxDFTJuqyh

— b (@odessaswife) March 13, 2023
not jimmy kimmel asking malala if harry styles spat on chris pine and then calling her maLALA LAND ??? #oscars pic.twitter.com/8s5DzGgMiS

— ron (@joeyIikespizza) March 13, 2023
Did Jimmy Kimmel just make a racist joke about Malala's name bro liberalism has not evolved one bit in a billion years

— One More Baklava (@ShpongledHard) March 13, 2023
having malala there and asking her about harry styles is genuinely so stupid

— gee 💎 (@geeonfilm) March 13, 2023
malala has been such an iconic figure for activism for about a decade now and a literal nobel peace prize winner and u ask her about spitgate ?! 😭

— 🐄 (@pIanetmarss) March 13, 2023
Omg. Malala looked so uncomfortable with him and that joke.. get that man outta here #Oscars pic.twitter.com/JUE78WZ391

— u thought I was feeling u? come eat it for lunch (@yungbakuheaux) March 13, 2023
The global activist stepped out on the red carpet in a stunning sparkled floor length gown by Ralph Lauren that also had a head covering attached. She was joined by her husband Asser Malik. Malala is an executive producer on documentary short film 'Stranger at the Gate'.
what a dream night ✨🪩✨ https://t.co/kjMqsVBGQX

— Malala Yousafzai (@Malala) March 13, 2023