#IStandWithAmma Trending On Social Media!
https://www.instagram.com/p/CCCHJBJFDFG/?igshid=1idvibltyz5yo
Social Media is upset with Bushra Ansari's harsh comments on Amma.
Amma TV Aur Main is a fun online show by the founders of Galaxy Lollywood which are famous for reviewing only Lollywood movies and all the "masala" that comes along with that.
Momin Ali Munshi is known for his honest, witty and fun reviews. Recently he came with a show, Amma Tv Aur Main in which he and his beautiful mother reviews the on-going dramas.
Amma became famous and everyone's favorite in just no time. She has a unique style of expressing her opinion on different drama scenes which is enjoyed mostly by everyone on the social media. Amma not only criticizes but she also praises the acting of different actors in dramas.
https://www.instagram.com/p/B_DtHg2BbLG/?igshid=ioxnkgbfl9o1
https://www.instagram.com/p/CBQ_qNUgpfa/?igshid=1gtypwviy5875
Recently Amma reviewed a drama of Zara Noor Abbas and made some funny comments on her acting skills. Soon after she made some comments on Asma Abbas's acting in the same drama, criticising both for their 'not so good acting' at which many fans commented too. 
https://www.instagram.com/p/CByS_FTF5dl/?igshid=1dejgp1glz0dx
https://www.instagram.com/p/CCBzfZGFvI5/?igshid=1hwidvzchcjg9
Last night Bushra Ansari took on social media and passed some harsh comments on Amma for being insensitive and 'cheap'. She further on added that such people can ruin an actor's career and are the real coronavirus in our lives and may they meet their end soon.
Bushra ansari is herself a big name of our industry and has a huge fan following and is admired for her witty and fun-loving personality. Everyone is shocked on the internet as she has always taken criticism in a positive way.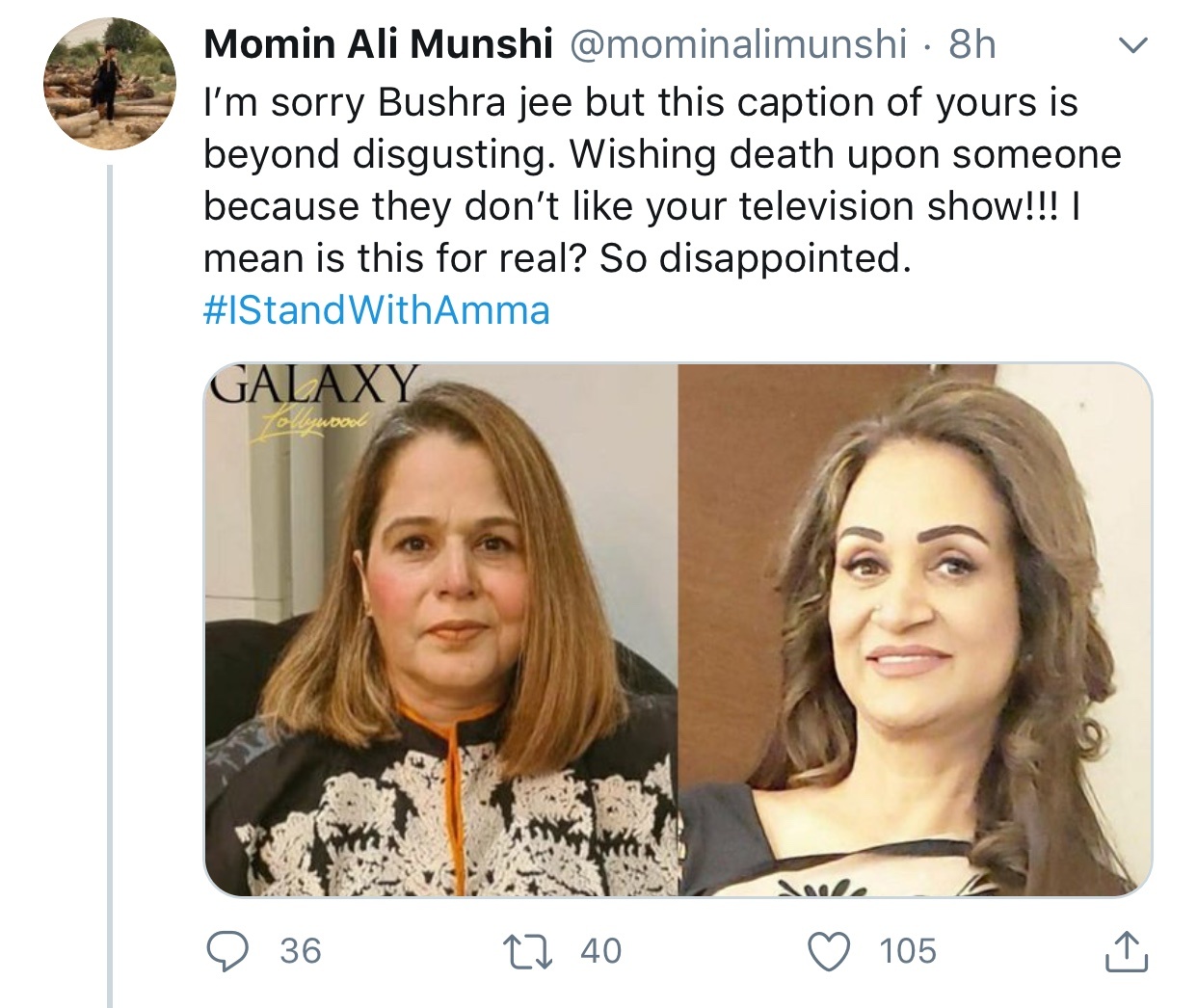 Amma who is being loved and respected by many, got her fans furious over this and many came up with disappointment and calling our Bushra Ansari rude and asking her to apologise.
#IStandWithAmma is trending on twitter and people think that such a bug artist of Pakistan should have come up and expressed her opinion just like Amma does and shouldnt have made such comments about her which involved wishing death upon someone.
Here is what the twitterati have to say: