Islamabad all set to open a drive-in cinema
As we are currently facing and dealing with the second wave of coronavirus and the government has directed to take special measures and strictly follow the SOPs.
Everyone is scared of having the lock-down again because it has been the most difficult time for us all as everything was closed, businesses were badly effected and many went into a state of depression because there was absolutely nothing to do.
Keeping in mind all the hardships and difficult time that the lock-down brought to us every industry has started thinking of ideas to bring entertainment through a digital platform. From dramas, movies, online classes and meeting there is a new trend of dine-in-car and many other options through which we can enjoy and spend some time outside our homes without fearing being affected by the virus.
The good news for Islamabad is that it is all set to have a drive-in cinema. An Islamabad-based twitter user made a request to the District Commissioner (DC) Islamabad Hamza Shafqaat to come with a plan of a car theatre every weekend and food vendors can put stalls and serve in car. He further said that it is going to be a brilliant activity in these times.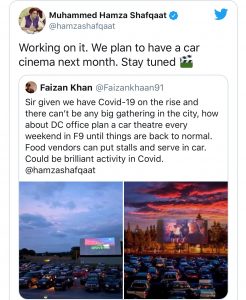 It seems that DC Islamabad, Hamza Shafqaat was already working on this as he replied to his request by saying that they are working on it and Islamabad will be having a car cinema next month.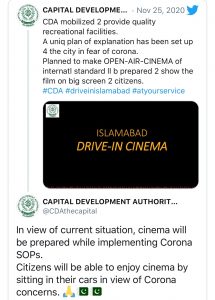 Many tweets followed this by giving suggestions on the location and many asked questions like what type of vehicles will be allowed and how and what type of SOPs will be required to follow.
Meanwhile, people from other cities asked their respective government officials to take notes from Hamza Shafqaat.