Pakistanis celebrated the victory of weightlifter Noor Dastagir after he won the gold medal at the Weightlifting competition at the Commonwealth Games. Celebrities like Cricket player Babar Azam, and singer Faakhir Mahmood congratulated the sports star for bringing joy to the entire country.
However, yesterday the Pakistan Sports Federation announced that it had suspended the Pakistan Weightlifting Federation after reports of irregularities emerged including doping, corruption and poor functioning.
Celebrities like Aiijaz Aslam and Ushna Shah criticized this decision, and called it a slap in the face of champions like Noor Dastagir who had brought home the first gold medal for the weightlifting competition.
On his twitter account, actor Aiijaz Aslam said that this decision shocked him because there was no purpose behind such an action, and it was a poor way to welcome back a champion like Noor Dastagir Butt.
"This nation never ceases to surprise me should we not be receiving our champions home rather then suspending the weight lifting federation of Pakistan should we not be proud what are we trying to do? What is the purpose of doing this action now? This is atrocious
#noohdastagirbutt"
This nation never ceases to surprise me should we not b receiving our champions home rather then suspending the weight lifting federation of Pakistan should we not be proud what are we trying to do? What is the purpose of doing this action now?This is atrocious #noohdastagirbutt pic.twitter.com/ZlxRSWmtGq

— aijaz aslam (@aijazz7) August 4, 2022
Ahsan Khan screenshotted the news clip and on his Instagram stories, he posted it with the caption "WTH….!!!"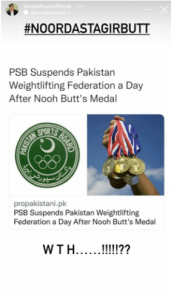 Actress Ushna Shah also took to her Instagram stories to share how disappointed she was in how we were treating our sports champions now:
"This is how we thank our heroes?"