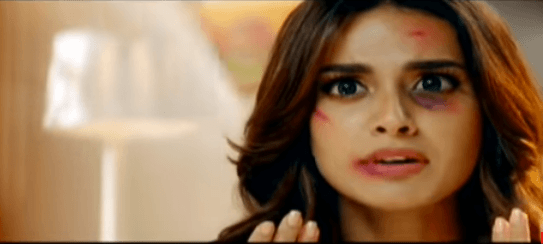 Iqra Aziz's latest project 'Jhooti' just aired its teaser which has landed the show in hot waters! The teaser shows the Suno Chanda actress in tears calling out men for the abuse of power. She then draws attention to the bruises on her face and goes on to claim that they were the result of her husband giving her a beating. Shortly after, in a twist, the actress begins to laud herself for her impeccable acting as she stands before a mirror!
Even though the teaser has a very powerful theme, people have labeled it as 'problematic'. People called the show out for being toxic as it displays a theme of misogyny and for invalidating the struggles of women who have suffered from domestic abuse in reality.
ARY really is on a mission to villify women.
Ikra Aziz points at bruises and cries about domestic violence in the promo for Jhooti and then cracks up with laughter about her lying skills.
Women's suffering is already ignored. Why create dramas to further demonise them?

— 🥨 (@vordwomitt) January 5, 2020
Where do I even fucking start with the #Jhooti trailer. I don't even want to start, I don't even want to think about it, I'm literally shaking.

— fuck up extraordinaire (@KamikazeKarela) January 4, 2020
this is fucking disgusting. congratulations for playing your part on stereotyping Pakistani women as pathological liars who make up their trauma for fun. down with every single one of you. scumbags. https://t.co/uF9E6fB6gk

— #JunaidHafeez || علیزا سکھیرا (@aliza_sukhera) January 4, 2020
Does iqra aziz even realize the amount of struggles of domestic abuse survivors will she invalidate with her stupid upcoming drama? Obviously not 🙂

— zahra (@slothfulbeing) January 4, 2020
The drama serial's cast will feature Ahmad Ali Butt and Iqra's husband Yasir Hussain in lead roles. Jhooti is directed by Syed Ramish Rizvi and produced by Abdullah Seja. However, the realease date of the drama serial has not been revealed yet! Jhooti will mark the first 2020 project of Iqra Aziz.
Watch the teaser of Jhooti below:
Let us know what your take is on Iqra Aziz's 'Jhooti" by leaving a comment on our Instagram page!