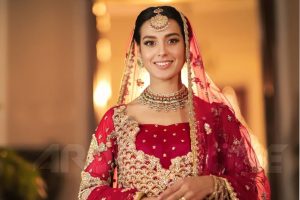 Iqra Aziz trends on twitter after her stellar performance in Khuda Aur Mohabbat season 3. Iqra and Feroze have been garning a lot of fame since the drama has released its trailers. The drama revolves around Iqra and Feroze as they are the main characters of the third season of Pakistani spiritual-romance series Khuda Aur Mohabbat, produced by Abdullah Kadwani and Asad Qureshi under 7th Sky Entertainment.
The drama has been gaining alot of appreciation since the first episode as it is unfolding with some intense episodes (on Geo Tv) making the audience completely hooked to it and the drama is trending on all social media platforms with 8-10 million views on every episode on YouTube.
Iqra Aziz, became a top Twitter trend after the latest episode of the drama serial Khuda Aur Muhabbat, which has over 8 million views in less than 24 hours of its release. As in the latest episode, Mahi (Iqra Aziz) gets married to Taimoor ( Mirza Zain Baig) she looked completely stunning wearing an all red bridal attire paired with some traditional jewellery. Fans loved how royal her bridal look was which did complete justice to her character in the drama.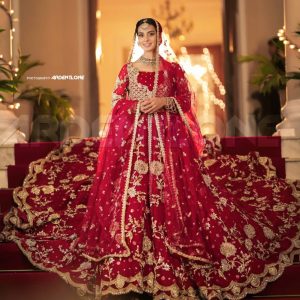 Source: Ardent Lone/ Hamza Aslam Bhatti
We love how her makeup look was kept very subtle making her bridal attire and jewellery stand out. She wore a meticulously crafted attire by designer Sadaf Fawad Khan.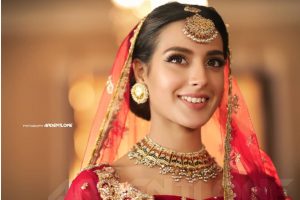 Source: Ardent Lone/ Hamza Aslam Bhatti
Fans just cant stop praising her performance and how beautiful she looked in the latest episode. Here is the link to the latest (15th) episode of the drama: 
We just cant wait for the next episode to air as the promo shows some intense scenes from the upcoming episode! Do let us know about your thoughts and views of the drama in the  comments section of our Instagram page!