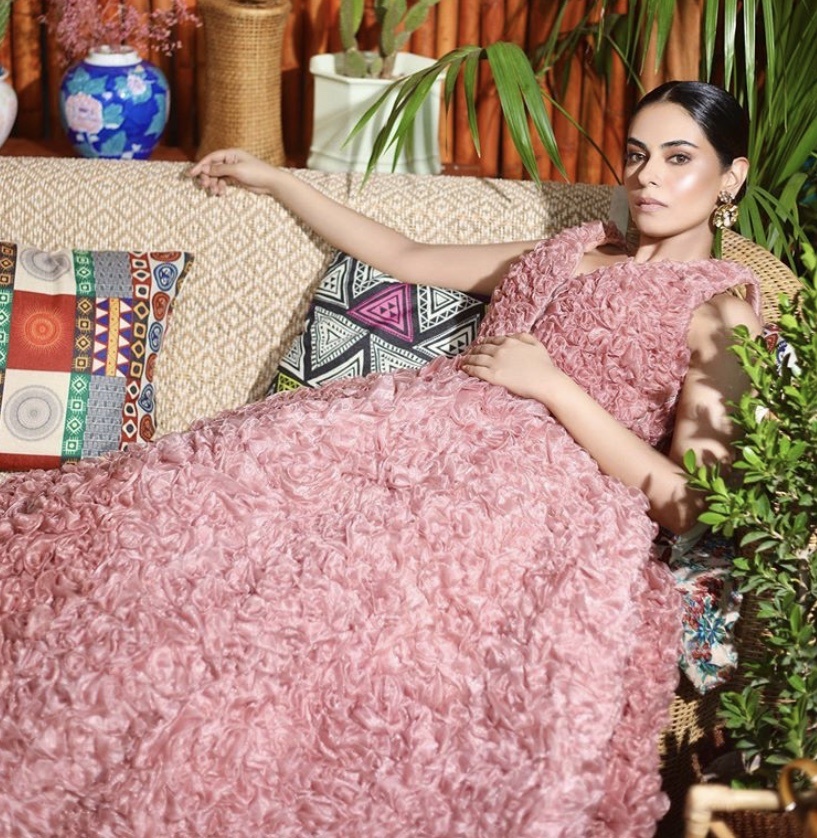 With a knack for acting and her love for films ever since a child, Amar Khan has made her name in the Pakistani entertainment industry in no time! Her most coveted performances are from the projects Belapur Ki Dayan and Dil-e-Gulshan.
Find out more about the starlet as we get up-close with her in an exclusive conversation!
https://www.instagram.com/p/CC_ldqPpllS/?igshid=85y82842fnnh
Amar you made your acting debut with Chasm-e-Naam alongside Ahsan Khan. What inspired you to take on the project?
I had a short film story, I shared it with Ahsan. That was a project with which not only did I make my acting but writing debut also. The interesting storyline made both me and Ahsan realise that we needed to make this project – so that's how it all started.
Belapur ki Dayan is one of your most loved drama serial. Tell us about an unforgettable memory from the project.
There were a lot of stunts involved in the making of Belapur ki Dayan. In one of the sequences they had to hang me upside down and my hair was all scattered and hanging in the air. I was very scared to do that, but thank God the director Saife Hassan was very helpful and we pulled it off very well.
Describe yourself in 5 words.
Dreamer, passionate, determined, stubborn and entertaining.
Tell us about your childhood. How were you as a child?
I was a very cry-baby kind of a kid. I was always crying and confined in my room – very introverted as a kid. I loved watching movies, so the movie passion was there ever since I was a kid.
Your mother Fareeha Jabeen is one of the most celebrated actresses from the 90's. How has she influenced you in terms of acting?
There are certain things you inherit and they are right there in your genes. It was not a deliberate attempt to learn acting from her. In my school days I was kept away from media – I had not seen her dramas but as you say, 'whatever is in your destiny, is somewhat seeking you'. It just happened over the years – my love for films grew and then I landed in a film school.
Out of all the projects you've done so far, which one is the closest to your heart and why?
Dil-e-Ghumshuda. It is closest to my heart because the character was very headstrong, very feisty, a little materialistic, a little insecure but a very enjoyable and juicy character that I got to perform. It was probably my highest rated project aired on GEO.
What does a typical day look like in Amar Khan's life?
Getting up in the morning, going to the gym, coming back and then getting ready for a shoot – living in another character, in another life and then coming back at night. It ends with preparing for the next day. It's pretty basic during shoot days!
List 3 things that people do not know about you.
I used to bite my nails a lot. I quit that nasty habit 2-3 years ago.
People are yet to see that I have the dancing feet.
I love music and  I'd like to associate myself with it in the future, perhaps write lyrics for a song.
Do you follow a fitness routine? If yes then what is it.
Whenever I'm off my work, or at times even when I'm going to my shoot I make sure I go to the gym and I'm regularly doing my exercise with my trainer. Fitness is very much an important part of my daily schedule. And it's not only to lose weight but to feel healthier and fitter everyday!
Tell us one beauty hack that you swear by.
Before I go to sleep, I make sure to cleanse my skin, wash my face and use my night cream. This is something I don't forget to do!
What is the message you would like to convey to your fans?
We've gone through a major change in 2020 – post COVID life. One thing we've learnt is that too far-fetched planning can also be dangerous…you need to go with the flow and also whatever life throws at you -the big surprises and shockers, you should be strong enough to take them and welcoming enough to go with the flow.
We wish Amar Khan all the very best for her upcoming ventures and hope to see more of her incredible work in the future!