Continuous political friction and anarchy between India and Pakistan always creates a sense of competition between the two states. India being a country that is larger not only in size but population and resources happens to exceed in most cases. However, it appears that Prime Minister Imran Khan has turned out to be a more popular leader owing to his global presence and skills-as suggested by Google trends.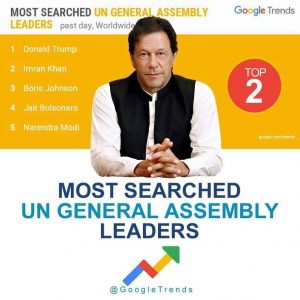 While American President, Donald Trump took the first place on the chart, Prime Minister Imran Khan came right next to him at number two leaving behind Narendra Modi at number five. Various reasons could have caused this slip for the Indian Prime Minister, the human rights violations in Kashmir being one of them.
Imran Khan also beat Alexander Boris de Pfeffel Johnson-British politician serving as Prime Minister of the United Kingdom and Leader of the Conservative Party since July 2019.
Brazil's President Jair Bolsonaro, took fourth place. President Bolsonaro has been under media scrutiny and has received a lot of backlash for his mismanagement and delay in solving the amazon fires this year.
All of these events and trends have aroused curiosity regarding Prime Minister Imran Khan's address to the UN General Assembly on September 27.