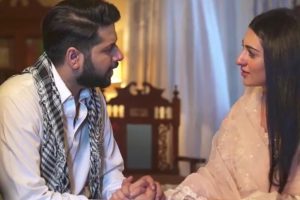 Imran Ashraf and Sarah Khan are trending on Twitter as their famous drama Raqs-e-Bismil comes to an end with a beautiful episode. The drama was directed by Wjahat Rauf and produced by Sadia Wajahat. As soon as the drama started airing on Hum Tv it gained a lot of fame and appreciation.
Fans loved the chemistry between Imran Ashraf (Moosa) and Sarah Khan (Zohra) in the drama as they shared the screen for the first time and created magic that made that glued the audience to their screens.
Last night the drama wrapped up with a promising ending leaving fans emotional and happy at the same time. Fans were expecting a sad ending as the writer's previous projects usually have a tragedy attached to it by showing the death of the protagonist. This time it was a surprise for all the fans as Moosa gets married to Zohra after struggling for a long time with the consent of his family!
We would like to congratulate the whole team of Raqs-e-Bismil on achieving this great amount of success and appreciation from all across the globe.
Here is the link of the last episode of Raqs-e-Bismil: