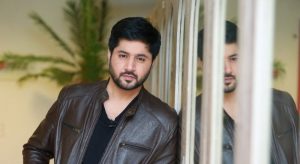 After winning many hearts via his praise-worthy performance in Ranjha Ranjha Kerdi, Imran Ashraf has finally signed his film marking it as his silver screen debut!
Imran Ashraf took to Instagram  to announce the big news to friends and followers!
https://www.instagram.com/p/B4AyE74FzEK/?utm_source=ig_embed
The film is titled 'Dum Mastam' which will also be featuring Amar Khan and Sohail Ahmed (also known as Azizi) and is expected to release next year in 2020!
Adnan Sidiqqui who is producing the film alongside Akhtar Hasnain also confirmed the news via an Instagram post!
https://www.instagram.com/p/B4A6K8BHXGa/
"Finallyyy! Was waiting to break this news to you far a very long time now. We at Cereal Entertainment are proud and excited to announce our first film, "Dum Mastam". Starring the dashing and talented Imran Ashraf who's been winning accolades foe his performance in Ranjha Ranjha Kardi opposite non either than the very talented Amar Khan. This project has also been penned by her. It's a rom-com helmed by the maverick director Ehtashamuddinwho directed Superstar recently. Last  but not the least, we're also introducing @mominsaqib Momin in one of the supporting cast in the film, who's a Instagram sensation and is phenomenal with his comic timings. Will share more updates about the film soon. Need your blessings and support guys."
Undoubtedly the expectations for the film are naturally high, with so many powerhouses brought together to create magic. We wish the team of Dum Mastam the very best and look forward to the film!