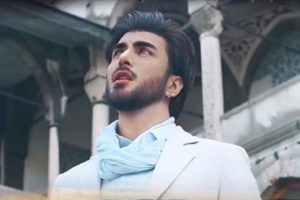 Imran Abbas recites Qaseedah Burdah Shareef as his first directorial video and launches his official YouTube channel.  The actor took on his official Instagram account and wrote, "My first directorial video with the launch of my YouTube channel. Qaseeda Burda Shareef Premieres now. Watch, like and subscribe. Looking forward to your more love and support."
Imran Abbas is a versatile actor and is known for his acting and singing skills. He has some many dramas on his credit which are block buster and is known for his roles in TV serials Meri zaat zarra-e-benishan(2009), Khuda aur muhabbat (2011), Akbari Asghari(2011), Dil-e-Muztar (2013), Alvida (2015), Mera naam Yusuf hai (2015) Tum kon piya (2016), Mohabbat tumse nafrat hai (2017) and Koi chand rakh meri shaam par (2018). He also made his Bollywood debut opposite Bipasha Basu in Creature 3D.
He has been reciting naats on different tv channels especially in Ramadan transmissions and everyone loves his soulful voice.
Imran has launched his official YouTube channel and recited Qaseedah Burdah Shareef in the Holy month of Ramadan. It is also his first directorial video and has asked fans to show love and support for his channel. His video got a million views in just a few hours and we must say his soulful voice gave us goosebumps.
Here is the link to the recitation of Qaseedah Burdah Shareef: