Niche lifestyle gets in conversation with a bright young chef, Imad Hasnain. working at a 2 Star Michelin restaurant in New York City at just 22 years of age!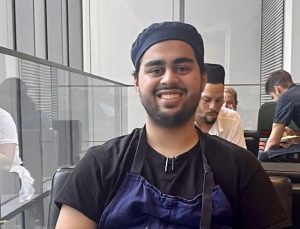 Imad Hasnain is a Fish Roast at a 2 Star Michelin restaurant The Modern MoMA in New York City. Born in Karachi, moved to Saudi Arabia, eventually ended up at the prestigious The Culinary Institute of America.
A young Pakistani Chef working at a Michelin Star restaurant in one of the most culinarily competitive cities in the world made us reach out to him for an in-depth conversation about his journey and future plans.
Scroll down to read our conversation with him.
At what age did you realize that you have interest in cooking and what made you decide to make this a full fledged profession?
I always had an interest in doing something with a creative element and when I started cooking small meals and little snacks for my friends and family, I knew I found something I truly enjoyed. Cooking brought a sense of self gratification as more often than not food speaks for it self and this passion sparked a desire to cook at the highest level.
Where did you get your professional education from and how was the experience?
I got my education at The Culinary Institute of America. At the CIA, I learnt the Ins and Outs of the kitchen and the unmatchable art of cooking. It was over whelming initially to be able to work with such high quality and state of the line equipment alongside some of the finest chefs.
Throughout my time there I worked part time at the "Egg" the school cafeteria and "The Tavern" at American Bounty, the bar section for one of the restaurants on campus. Working in these places when I was not in class allowed me to live breathe and sleep cooking allowing me to build my fundamentals which others had built in jobs before school.
In our society, it is rare to find someone practicing cooking as a profession. It is unique but not commonly found. Did you get any resistance from your family or fiends not to pursue this as a career or were they supporting your move?
Initially there is always a sense of confrontation, especially with cooking not being a conventional career path. It took a few years for everyone around me to realize how much hard work, time and effort it takes to be in this field. I was able to win them over with some irresistible dishes. But honestly, I can't be thanking my friends and family enough for their support in helping me achieve this unusual dream.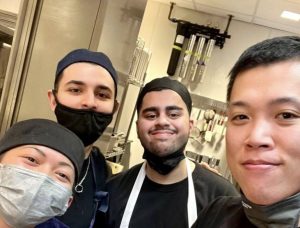 What is one dish that you enjoy making the most and that one dish that you enjoy eating the most?
I have cooked so many things over the past few years and I will cook so many more as the years progress so the answer to this may change. But one of my favorite things to cook and present always is a nice piece of steak, a New York strip just seared in a cast iron and basted with an obnoxious amount of butter, garlic, and herbs. Its one of the most enjoyable things to cook and eat of course.
How long have you been working in a restaurant now? Have you introduced any of our "Desi" entree here yet or do you plan to? If yes, then which would be that dish?
Currently I am working at "The Modern" MoMA and have been there for almost a year, although a traditional  "Desi" entrée would be very hard to pitch especially as I am still learning and growing as a cook but maybe in a few years. Who knows there could be some influences in my cooking as those will always be the flavors of my childhood.
Where do you see yourself in next five years?
This questions is always a bit tricky for me, as I like to keep it spontaneous. Just learning everything I can about new and better ways to cook, experiment and experience new ways and means of developing the finest cuisines. I would love to see myself at a 3 star Michelin restaurant making people smile through my cooking!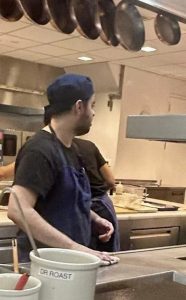 Do pay a visit to The Modern MoMA if you happen to visit New York City to taste what Imad has to offer.
Niche Lifestyle wishes him all the luck and good wishes for his future.