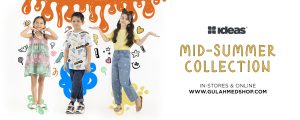 The all- new Kids Collection by Ideas with it's unique colors and striking prints provides a wide display of options to make your little ones look their sartorial best.
From trendy denims to playful t-shirts, eye catching sillhoutes to dreamy designs, you will find it all in here!
This collection celebrates children and the energy they bring to our lives. It's fun, vibrant and stylish while also being exceptionally comfortable and afforable. Not only that it also flaunts a wide variety to choose from which means it has something for everyone. What's there to not love about it?
With schools about to open, we know that kids are going to get invited to multiple birthday parties, get togethers and ceremonies. Fret not Moms and Dads because this collection will solve all your worries in the best way possible.
Here is a list of some of our favorite picks from the collection.
First up we have this white print shirt for boys which is literally AWESOME! Made with the most comfortable and durable fabric, your little one will want to wear it every other day.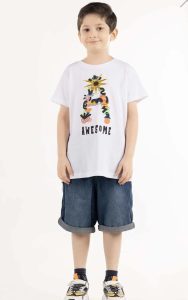 Next up, this cheetah print wide legged pants for girls are both easy to wear and easy to style. Best of both worlds? Totally. Pairing it up accessories as shown in the image will make your little one look like a true star.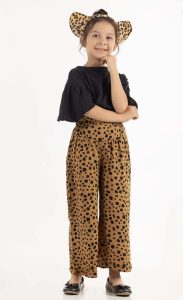 Life isn't perfect but your outfit can be…. YAS! This sassy statement shirt will amp up your little darlings wardrobe in a minute. The pastel color combination coupled with the text makes it a super choice!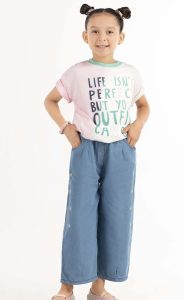 A perfect denim option always comes in handy. Be it a trip to the zoo or playland, denim jeans will never fail us. Pair them up with your favorite t-shirt or kurta and accessorize with a striking belt. Viola! You're good to go.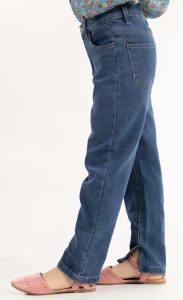 Next up we have this striking shirt for boys that gives off a very cool vibe. Pair it with your favorite denims and you will have a winner look without trying too hard.
The perfect color for the season, this limelight top with its statement sleeves is girly, stylish and super functional!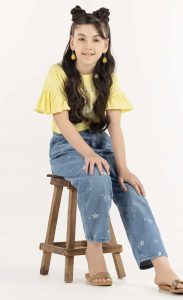 Beat the heat in this super fun striped blue sleeveless shirt for boys. Perfect for a day out to soak some sun or enjoy the rainy season.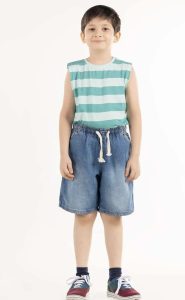 The prefect blend of east and west, this mint green top is a unique pick that celebrates the childhood spirit. The colorful details make it a standout piece! Paired with your favorite denims or pants, this outfit will make your daughter look stylish yet sophisticated.
Apart from an amazing Kids clothing collection that will solve all your wardrobe problems for your little ones by providing you with a wide display of essentials and special outfits, Ideas has also launched a Home bedding collection that will spruce up your little ones room.
This jungle inspired bedding is going to give a nice organic feel to your child's room while also giving them a comfortable space to relax.The artistic details on this one are breathtaking and make us want to look at it again and again.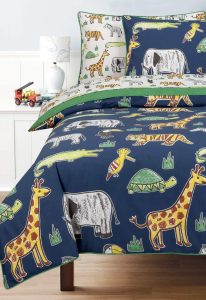 This sweet plantation inspired bedsheet with little cactus and strawberries is the cutest thing we have seen in a while.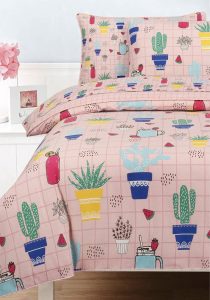 What are you waiting for? Hop to your nearest Ideas store or shop online on their website, the collection is the perfect blend of quality and affordability making it one of the most sought worthy collections out there.