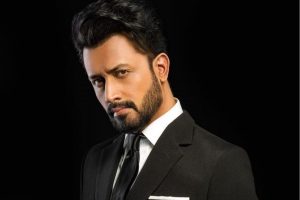 In an interview with Haroon Rashid, from BBC Asian Network, Atif Aslam talked about his journey in the music industry and shared some heart-felt stories about his life and experiences. Atif even clarified the rumour that was doing rounds on social media a few years back that he has rejected Shahrukh Khan's offer to sing a song for his movie, Dilwale.
Haroon asked, "Is it true that at one point you were so busy that you rejected to sing Gerua for Dilwale?" To which Atif replied, "No, nothing of that sort happened and I have met Shahrukh just once so the offer was not made by him personally. His team got in touch with us and we recorded the song (I still have it with me) but then something happened and maybe it was not conveyed to Shahrukh."
He further added, " If Shahrukh ever sees this interview, I would like to convey this message to him that I am never busy for you and would love to sing for you anytime."
Did you all enjoy watching  this fun, heart-to-heart  interview as much as we did? Let us know in the comments section on our Instagram page.
Here is the link to the interview: