Humayun Saeed & Adnan Siddiqui collaborate with Ertugrul producers to boost the entertainment industry
Since Prime Minister directed PTV to air the famous Turkish historical TV drama Dirilis: Ertugrul it seems that the people of Pakistan have been showing immense love and appreciation for the cast of the drama and somehow the Turkish culture is being admired by Pakistanis on a great level.
Soon after many brands started working with the main actors of the drama and started making their brand ambassadors to which some of our actors especially Yasir Hussain got offended as well thinking that it was demotivating to not to offer commercials , projects and endorsements  to our own actors and considered that it was like giving preference to Turkish actors over Pakistani actors.
A great news just came in yesterday when Adnan Siddiqui and Humayun Saeed shared  on their instagram and twitter  accounts that they have partnered with Tekdin and TRT production (who have produced the famous drama Ertugrul) for some new projects.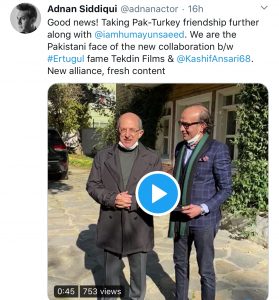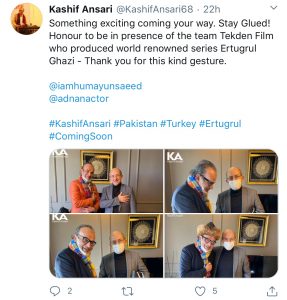 Adnan Siddiqui said, "As millennials say; "super stoked" to bring to you a partnership that transcends borders. Pakistan and Turkey have joined hands in a collaboration between Kashif Ansari's Ansari films, TRT films and Kamal Tekdin's Tekdin Films to usher in a fresh era in Pakistani industry." He further added, "I have always believed that art should be free from the shackles of international and geopolitical boundaries. This is my small step towards that."                  
Humayun Saeed and Adnan Siddiqui will be taking care of all the pre, on-going, and post-production activities of this collaboration.
Yasir Hussain also posted on his instagram account that he is happy with this collaboration as this will offer equality to actors from both the countries.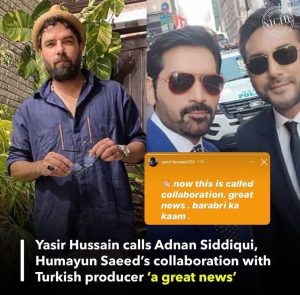 We hope this turns out great for both the countries and creates and offers new projects for all the actors to come forward and show and polish their acting skills.