We were clearly wrong in imagining that Nabil Gabol had probably learnt to control himself by now, and was going to put a stop to all the violent misogyny and sexism. The Pakistan People's Party (PPP) politician is back and he is not coming slow!
'Huda name is nice but face say another story', yet again 'joked' the former MNA, underneath a Twitter post detailing chilling details of the abuse of a young child.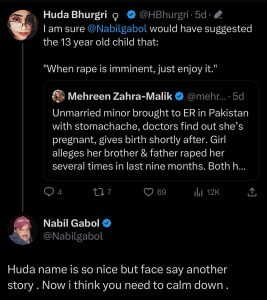 As the post described the details of rape of an 'unmarried minor', a Twitter user commented underneath, recalling the advice Gabol had shared for rape victims in a recent podcast interview, saying "Nabil Gabol would have suggested the 13-year old child that: 'When rape is imminent just enjoy it'".This was enough to invoke Gabol's wrath who did not shy away from retorting with even more callousness, insensitivity, sexism and misogyny.
This persistently callous behavior points towards a dire need for men, especially men in power begin to be held accountable for their unacceptable remarks and behaviors, lest we allow for a society rampant with crimes of sexual abuse!