Spring is here and we all want to bring out our floral sarees that have been scrambled at the back of our wardrobes. However, knowing that the temperatures are soaring and work isn't going to stop anytime soon, we know that your saree needs to be functional. Take cues from style star Hira Mani on how to pair a saree with a t-shirt.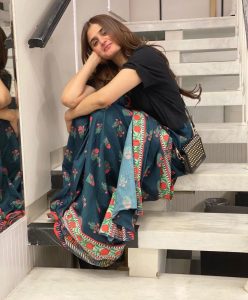 Here she can be seen styling her floral teal saree with a black t-shirt which you all must have in your wardrobes, she further pairs it up with a black sling bag and pink dewy makeup.
On another occasion Hira Mani can be seen styling a pink saree with a purple cropped t-shirt and again a sling bag to complete the look.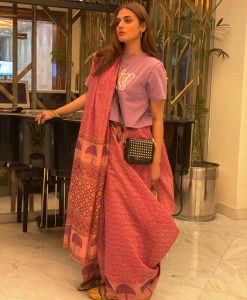 Fusion is the best kind of fashion statement for Spring and pairing a saree with a statement t-shirt is the best way to do it. Don't forget to spruce your look up by adding statement accessories like chunky bangles and hoops for the ears. A traditional pair of khussas would also marry well with the look.
Incase this make you want to binge Hira's tv serials then we've compiled that for you as well. Click here, for some of her best performances.