Embrace the wild child within you because the animal print trend appers to re-emerge on the runways and streets alike. The trend is undoubtebly bold and dosen't fit the frame of coventional beauty standards, its out-there, striking and sometimes bizarre, nontheless a fashion favorite. Scroll down for some styling tips and tricks plus the brands who'll help you ace the trend.
Animal print, be it snake skin or leopard has been a favorite print for trousers. Various leading ladies pair a plain black or white tee or tank top and pair it with these printed trousers.
Sssss Snake Skin 🐍
Sadaf Kanwal is seen here enjoying the snow in Norway while wearing a black tutle neck, an olive green blazer and snake skin pants.
https://www.instagram.com/p/B5u_rpAAJQo/
Kiran Malik also puts her own twist to the trend by pairing her skinny snake skin jeggings with a white tank top.
https://www.instagram.com/p/B1Wza7bhU_Z/
Talking about snake skin, Almas.pk's snake skin sneakers are not only on trend but also super affordable.
https://www.instagram.com/p/B3RnjEtgsFm/
Cheetah Prints🐆
Sona Memon pairs her Cheetah print pants with a white Zara top and looks super chic yet effortless.
https://www.instagram.com/p/By0UQZ2BGxW/
Alishay Adnan puts a boss lady twist to this rather wild trend by pairing a leopard print collar shirt with a white blazer.
https://www.instagram.com/p/B55bw_gAtUd/
The apt place to shop for your Leopard print clothing is Mango, from trousers to faux fur coats, you'll be sorted.
https://www.instagram.com/p/B4siZ3dnhC0/
Almas.pk's classy pointed toe pumps in leopard print are another great piece to add the print to your wardrobe.
https://www.instagram.com/p/B3cAgElgTBj/
Here's a peek into Niche Lifestyle's top trends layout for the magazine!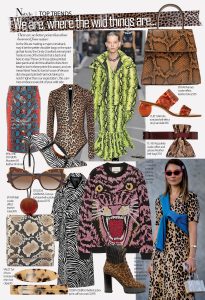 Overdoing it could turn the trend into a faux pas, however the right balance between print and monotones can eventually turn out to be great look. A monotone look with printed heels or sneakers is also an easy and chic way to style the trend. Get going Wild Cats!