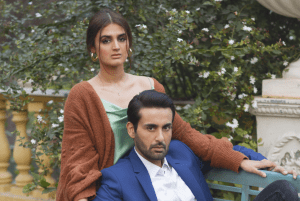 He's a versatile actor – who has carved a niche for himself. She's a megawatt star – who is loved by everyone for just being herself. Together Affan Waheed and Hira Mani represent the quintessential hit pair everyone enjoys on the silver screen.
We caught up with our February cover stars as they talk about their never-fading friendship, their rise to stardom and how they bring their A-game when it comes to acting together.
What did you think of each other the first time you met/saw each other for 'Do Bol'?
Hira Mani
The first time I met Affan, he was sitting on the bed after praying while I entered the room, and I could hear some discussions in which Affan appeared to be saying that both mine and Hira's character is good, which made me feel very relaxed. I liked Affan, I thought he was an educated, decent actor and performs very well. Affan is a great guy but the best thing is that he is a great actor. My drama 'Do Bol' was a big hit and the reason behind that is that Affan is a great actor
Affan Waheed
I, somehow was under the impression that Hira was a little stuck up. So walked on set carrying the same opinion. When I entered, she was getting her make up done, we exchanged pleasantries and I languished myself on a bed in a corner of the room. Later, the director walked in and introduced us and we both, yet again, exchanged perfunctory smiles. A screen less, I thought to myself.. lol.. anyway, we started shooting and she, to my surprise, did a mind-blowing scene.. I was happy where I was surprised.. gradually but consistently we started warming up to each other and no looking back ever since. My first impression was ridiculously deceptive.
You both come from a background of art. Hira, your first job was applying mehndi on women's hands. Affan you hold a degree from NCA and changed careers from painting to acting in 2006. Today, that you both have made it big and achieved stardom.
How do you feel about your first job?
Hira Mani
I like the way my career started. Before starting work as a parlor girl, I went for a job interview at a school but they rejected me after hearing my English. Even though i offered to work as an Urdu teacher, they did not hire me because I was also very young at the time. So yes I would apply Mehndi on people's hands, on Chaand Raat, at Alissa Beauty Parlor and Princess Beauty Parlor, which were all small, one-room salons located under my apartment , and I would manage to earn one to two thousand rupees. the girls sitting at these parlors were all very creative at makeup and hair-styling. At that time the rate was Rs. 100 to Rs. 200 per hand and with the money I would buy any items such as jewellery or other accessories that would be left out of my Eid shopping.
So yes, I feel life is a journey, and everyone has to spend their journey on their own. And only you can make your journey happening by doing all those things which you really want to do.
Affan Waheed
I started off as a radio jockey in my late teens…My first job ever… It was fun and less demanding.. Today, in retrospect, all I remember is one unambitious kid doing ambitious stuff, going out of his way only so his parents could be proud of him. That job gave me every bit of confidence required for an after- graduate roller coaster of a life. I miss being an RJ, where people only knew your voice and no judgments were made on how your genes made you look like.
Is Hira Mani a better friend or a better actor? Why?
Is Affan Waheed a better friend or a better actor? Why?
Affan is a great friend. He is a great actor but more importantly he is a great friend. There are many actors but only a few manage to become your friends and I own Affan as a friend.
Affan Waheed
Hira is a great friend and even a better actor. There's no comparison.. acting fills up her rice bins and friends fill up her life.
Far from the days of your first project together, you are both now stars in your right. Do you think the other has changed after becoming famous?
Hira Mani
Many have changed in the sense that people tend to flatter you a lot. Then there are some who cannot digest your success. People's attitudes have changed towards me, and this is what life is, Allah changes others' attitudes towards you and if you are good you stay good in other people's hearts. There used to be people in my family who would taunt me saying 'Hira keh toh fashion khatam nahin hotay', 'Hira ne ek aur mangni torr dee'.
Affan Waheed
Success is slippery.. even if you don't change people will always choose to believe that you do. Changes come on different levels.. Hira started toning down after the initial brushes of fame were over.. she has taken stardom very gracefully and I'm proud of her for that.
Your first drama together 'Do Bol' was a huge hit and after that you also worked together on 'Ghalati'. How has your friendship evolved  ever since and what are your thoughts on working together for this upcoming project?
Hira Mani
A friend like Affan is a blessing. You learn with Affan. Any person who takes you closer to your Creator, Allah ,Whenever I sit with Affan we talk about all the things we should thank Allah for. He never lets me fall, he is a friend who tells you your strengths. We tend to have very serious conversations. Aside from Mani, my son and father, Affan is the one I can show my inner depth to, otherwise I don't feel like showing my inner depth to everyone. So , this is a lethal combination of our friendship. I used to think any English-speaking person can never be my friend because I am too local. Working with him I have also really learnt from his acting, I also tend to copy a lot of his dialogue delivery many times. He is best friend in the industry, and is very caring for me and respects all my relationships.
Affan Waheed
Friendship always evolves if you stick together…so has ours…we have become more tolerant of each other now.. I always enjoy working with Hira. She brings out the best in me. Our upcoming project was also fun. Let's see how it is received.
It's always a celebration when the two meet, and when they're not cracking inside jokes, they're busy imitating each other, playing pranks and enjoying each other's company.
How can you not feel the love?