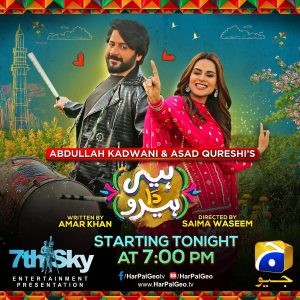 A burst of energy, chaos and laughter- 'Heer da Hero' ticks all the rights boxes of a great entertainer. We are seeing Imran Asfraf in a Ramzan special second year in a row and oh boy, oh boy, he delivers and how!
Without any major spoilers, Heer da Hero is based on the animated rivalry between the Butts and the Jutts, both political families with members having exaggerated personalities. Naturally the rivalry embedds among their kids as well with Imran Ashraf belonging to the Butt clan and Amar Khan to the Jutt.
Imran Ashraf is an 'angry young man' decked in a leather jacket, beating people into pulp and delivering dialogues with that filmy gaze. Amar Khan on the other hand is a 'desi girl' who OBVIOUSLY is a TikToker. Amar is a Pakistani 'Geet' with her patyala shalwars and foot in the mouth attitude. Both the main leads are giving us an energetic and refreshing performance with their respective characters being full of life and funny.
The drama hits the mark with it's super witty comic timing, Punjabi flamboyance and relatable themes. You have never seen a family feud as funny as this one. The show is loud yet targets meaningful conversations as well.
View this post on Instagram
'Heer Da Hero' is a presentation of Abdullah Kadwani & Asad Qureshi under the banner of 7th Sky Entertainment. The drama serial is written by Amar Khan and directed by Saima Waseem. The serial boasts a great ensemble cast with many prominent actors including Imran Ashraf, Amar Khan, Usman Peerzada, Kashif Mehmood, Afzal Khan Rambo, Waseem Abbas and others.
Are you watching the show, do let us know?