Director and Production Designer Hashim Ali shared his take on ban on film Joyland in a recent social media post, saying 'You don't have to agree with everything but please be mindful of people and their journeys.'
The designer commented his take on a recent podcast featuring trans actress Alina Khan, who plays the protagonist in film Joyland.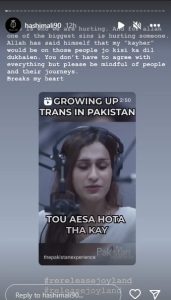 Alina shared her arduous journey of living her life as a trans person in her household, where even her own siblings and parents were not supportive of her struggle and personal identity. She talked about how she would be name-called outside her own home, where people would chant 'Khusra, Khusra' upon seeing her, and how her own brother would not open the door for her sometimes for the entire night.
Less than 24 hours after the federal government decided to first lift the ban on the film Joyland, before Punjab government reimposed the ban on the film issuing a notice to the film's producer, banning the film in the Punjab province after "persistent complaints received from different quarters".