Share this
Did Yasir Hussain just get caught up in another controversy?!
Recently Hania Aamir took to instagram and opened up about her struggle with acne and how it  made her cry for days and nights, giving her anxiety, a feeling of insecurity and low confidence. She talked about how eager she was to see her skin clean for which she made numerous  visits to dermatologists and how she searched and tried 'todkas' every now and then which just helped her for a couple of months only.
Hania said it took a while for her to realize and admit the fact that it is just a rough phase of life and will pass by soon and just because she is a celebrity it does not mean that she has to be perfect! Everyone has flaws and imperfections which certainly do not define anyone's personality and talents as a whole; as a person's personality and strength is way more than all such imperfections and fake beauty standards.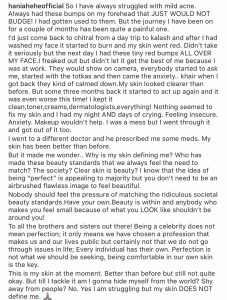 She gave a strong message to all the people out there who are struggling with anything to be strong and positive!
While Hania got a lot of praise and love from fans and fellow celebrities, Yasser Hussain on the other hand on his instagram question and answer section, when asked by a fan called Hania 'Danedaar' at which the actress got really offended and posted on her instagram story that Yasir Hussain has got in a habit of cracking inappropriate jokes.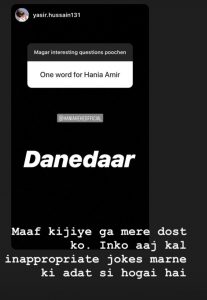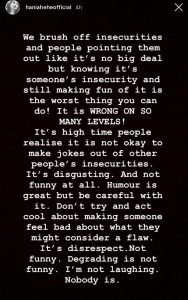 She further added that no one found the joke funny and neither did she like it as she talked about a rough phase of her life which shouldn't be taken as a joke.
Share this