Hania Amir 's birthday celebration in pictures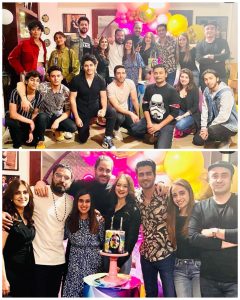 Hania Amir 's celebrates her 24th birthday today on the 12 of February with her close friends. Her birthay pictures were first shared by her close friends who gave her a surprise by setting up a beautiful, vibrant decor of balloons in funky colors.
We completely loved her abstract birthday cake with her self portrait on it. Painting with buttercream is a popular cake trend going on right now and we must say that as Hania is always following up some new trends, her friends have also kept that thing in mind and got her cake that is unique and trending these days on social media.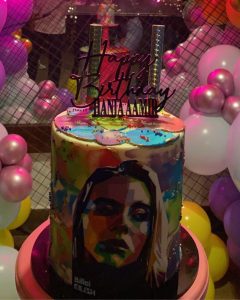 We spotted Wajahat Rauf, Shazia Wajaht, Danyal Zafar, Farhan Saeed, Yasir Hussain, Iqra Aziz, Ali Rehman, Mrs & Mrs Shahzad Sheikh and some more close friends. Everyone had a great time with a good jamming session at the birthday party.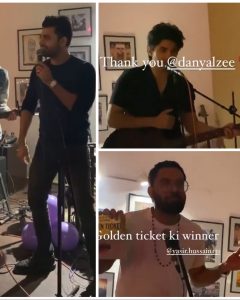 Hania wore a black satin blouse paired with wide leg flared pants paired with shiny red heels. Many other celebrities were also seen wearing black at the party as well.
We wish her a very happy birthday and all the very best for her future!