Hamza Ali Abbasi is writing a book to share his spiritual journey
Hamza Ali Abbasi has been on of the most charming actors of our industry and has amazing dramas and movies on his credit.
Hamza gradually started to change his path and announced that he will be leading his spiritual journey and will be doing projects that will some how spread the message of Islam only.
Since he got married to Naimal Khawar Khan he been in the spot light as the couple is highly admired by fans and are always excited to see their happy family pictures.
In a recent interview at Hum Tv's 16 years celebration, Hamza said that he has taken a long break from the industry and is writing a book in which he will be sharing his spiritual journey with people. He further added that this is not an easy task and will require alot of time and effort which is why he can not focus on any other project at the moment.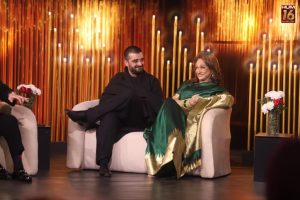 He said that from now on his productions will be all about Pakistan's culture and Islam and he will be very active on his YouTube channel where he will be making videos on issues that should be addressed.