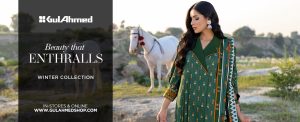 GulAhmed has just launched their Winter Collection for the year 2022 and we're elated! The collection brings forth an alluring display of unstitched fabrics with a wide variety of embroideries, colors and prints making it a stellar campaign. Be it a casual brunch or a stylish soirée, this Winter Collection has options for anyone and everyone. From Pashmina Shawl Collection to the Karandi Collection as well as the Linen and Gold Printed collection, the themes for this year's campaign make it highly demanded and versatile.
The collection channels traditional elegance as well as modern excellence. Every design, print, and color palette displays the country's diverse fabric artistry, as well as the meticulous craftsmanship GulAhmed is known for. Always ahead of the game, GulAhmed is a trailblazer when it comes to unstitched fabrics and this collection further adds to their unparalleled legacy. Not only are they known for their fine quality, finesse and style but also their affordable prices. This collection is luxurious, dreamy and rather glamorous.
We are honestly spoilt for choice but for your ease, we've narrowed down some of our favorites. Scroll down to see.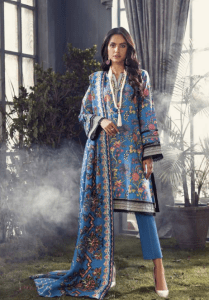 This breathtaking three price unstitched piece consists of a digitally printed Pashmina shawl paired with a similar khaddar shirt and dyed trousers. The femininity of the Pashmina shawl coupled with the unique floral print make it a rather elegant choice for a chilly Winter afternoon.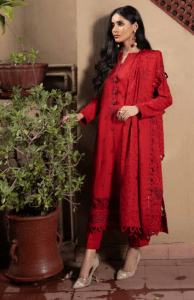 This red three piece ensemble consists of a timeless Karandi shawl which flaunts intricate cutwork and appealing aesthetic. This also comes with an embroidered Karandi front panel, front and sleeves. We assure you that this one will make your look memorable and stylish.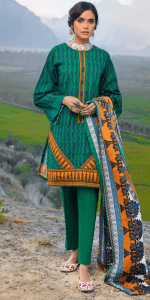 This teal three piece unstitched garment flaunts an array of colors that have bowled us over. The green and blue combination coupled with a hint of green make it trendy yet classic, both at the same time. Thinking of what to wear to work? This one would surely be on our list, its fuss free yet pleasing to the eyes.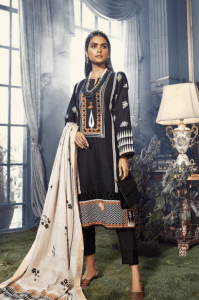 GulAhmed always proves to be a pioneer in innovating. Fusing various styles and techniques and producing a sought after piece has always been their niche. This breathtaking black garment displays a laquer printed Pashmina shawl and Khaddar shirt as well as dyed trousers. The hint of sparkle make it a perfect option for the festive season.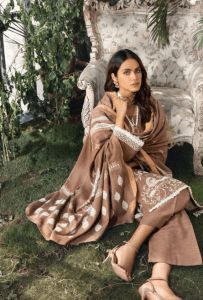 This neutral three piece is one of our favorites from the collection. Redefining simplicity in the most graceful way possible, the combination of earthy tones with white embroidery make it a winner choice. The shawl for this one comes with Gold and Laquer details and adds that oomph factor to the otherwise simple look.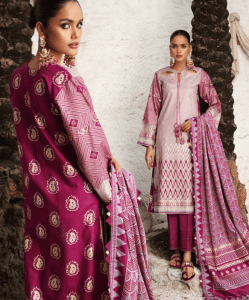 This purple and lavender outfit poses as a show stopper piece owing to the gold printed duppatta and gold printed shirt. This also comes with dyed pants. The gold definitely adds the royal glamour we all could use this Winter. This one is graceful and chic in the best way possible.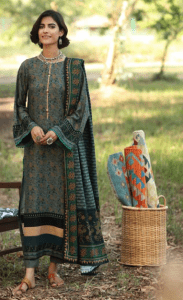 Another favorite of ours is this Linen Twill Shawl coupled with a shirt of the same fabric and dyed trouser. The lush linen makes for a rather desirable fabric in Winters and the details of this piece from the pattern to the color combination elevate it to an outfit of dreams. Paired with earthy Kola puris and pearls, you will look like a true queen in this one.
Be it an awaited Winter brunch or a fashion emergency, this collection will make you look like a head turner in every room you walk in. The class apart aesthetic coupled with exquisite designs, cutworks and fabrics make it an ideal choice for your upcoming shenanigans. With a wide variety of fabrics, from Pashmina to Karandi and Linen you will have outfits that marry well with the demands of the innumerable events that Winter hold.
The collection is available in stores but can also be ordered online. If you want to skip the traffic and get your hands on this collection before others. This is your chance, head to GulAhmed's website and add to cart your favorite items.
Happy Shopping!