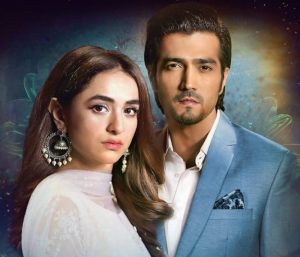 Raaz-e-Ulfat just aired its 33rd episode and the audience has the most wonderful things to say about the drama serial.
Written by Maha Malik and directed by Siraj-ul-Haq, Raaz-e-Ulfat aired its first episode in April this year and since then has continued to garner much attention. The cast of the drama serial features Yumna Zaidi, Shehzad Sheikh, Komal Aziz  Khan, Gohar Rasheed and Arisha Razi.
The storyline revolves around a young girl named a Mushk who becomes a victim of a love triangle.
Mushk belongs to a conservative family as her life is governed by her father Iftikar Ali. Mushk has no choice other than following the principles set by her father until she meets Sehba who lives a much different lifestyle. She is modern and outgoing in nature. However all is well between the two girls until they get caught in a love triangle.
This drama teaches us "kisi ko barbad kar ky khush ap bhi nahi reh skty"🖤#RaazEUlfat pic.twitter.com/ouqYkeTD7Q

— Irfa🦋 (@Yeah__Its___Me) November 19, 2020
@GoharRsd such a thorough gentleman…his views 😍
Huge huge respect for you 🙏🏻
Ismail wining hearts and now after watching this IV m a huge admirer of you ❤️#RaazeUlfat https://t.co/vr7Stqnz83

— Bushra (@bushrareal202) November 19, 2020
Raaz e ulfat is so good I legit started few hours ago and I'm already caught up am I normal

— iqs (@_iqraan) November 18, 2020
Just loved this scene 🥺🥺❤❤
Mushk chahe jo hojaye ismail ko nh chodna🤗❣

Warna gohar rasheed phir beech me ajayega ga dusre show me😩😪😂#RaazEUlfat pic.twitter.com/NarJayFGto

— urooj😌♥ (@Uroojs123) November 18, 2020
"Rishton me main jabr ka qail nahi hon" Mushk please don't leave this Gem💎💖#RaazeUlfat pic.twitter.com/TdMELObEcj

— Hum Sab Ki Tweets (@HumSabKiTweets1) November 18, 2020
I'm currently watching Raaz-e-Ulfat, Fitrat, Bandhey Ek Dor Se, Kasa-e-Dil, Mehar Posh. All these are Geo dramas. There's loads that you must've missed whiche were brilliant. @HarPalGeoTv dramas are the best so I truly recommend them. ❤️

— Neena (@N33N4_03) November 18, 2020
True Karachiite Jo Ghar se zyada Samandar pe hi rehta ha har waqt..🌚😂#RaazEUlfat pic.twitter.com/DYYGFczszV

— Nimmz__🔥 (@Chlo_shaba_kato) November 18, 2020
Viewers of the drama serial are not only appreciative of the cast and their laudable performances but also the impactful storyline and commendable direction of each scene.
Are you also following Raaz-e-Ulfat? If yes, then let us know what your views are on the drama serial by dropping a comment on our Instagram page.
Until next time!