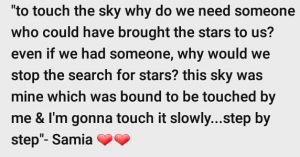 'Ghisi Piti Mohabbat' aired its last episode last night on Ary digital and the viewers think that the drama left them with some strong messages by addressing some of the main issues that our society actually needed to see and realize.
The drama serial had a bunch of talented actors with Ramsha Khan, Wahaj Ali in lead roles. Along with them it had some brilliant actors like Shahood Alvi, Ali Abbas, Saba Hameed, Saba Faisal, Javeria Abbasi and Danial Afzal.
Ghisi piti mohabbat revolved around Samiyya (Ramsha Khan) showing different stages of her life and how she manages to go through all the struggles of her life. She has been shown a very bold and witty girl who knows how to take a stand for her rights. The drama addressed the issue of work place harassment and gave a message how girls should never stay quiet and should immediately leave any work place that makes them feel unsafe and uncomfortable.
Sammiya's character gave a strong message to all those women who had to go through the process of divorce in their life, that it is not the end of the world and women do not need a partner in their life to achieve their goals.
The drama left fans with a message that marriage is not the only goal in a women's life rather she should work on making herself independant and should not depend on their husbands to provide them with a good living. Women alone can achieve their goals and a failed marriage does not mean a failed life!