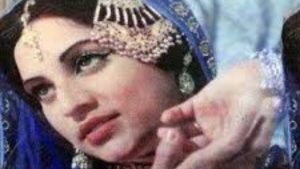 Famed 70's Pakistani actress Firdous Begun best known for her iconic role in 'Heer Ranjha' passed away earlier yesterday. She was an acclaimed named of the Pakistan film industry and made her mark in the golden era of Pakistani film industry with her over 150 Punjabi, Urdu and Pashto films.
(Read more on Pakistani entertainment here.)
She started her career back in 1963 with a movie 'Fanoos' in which she had a supporting role. Later she got a break from the films 'Malangi' which was shot and released in 1965 and ever since then there was no looking back for the actress. Her infamous role in 'Heer Ranjah' made her the most sought-after actress in the 1970s.
After the news of her demise was announced, social media became flooded as the nation paid tribute to the actress and remembered her valued contribution to the Pakistani cinema.
The Directorate of Electronic Media and Publications also paid tribute to Firdous Begum:
Renowned Pakistani film actress #FirdousBegum died in Lahore on Wednesday..

Firdous Begum,whose real name was Parveen, played the role of Heer in the famous Pakistani Film, Heer Ranjha pic.twitter.com/TvWJA5VNCv

— Directorate of Electronic Media and Publications (@demp_gov) December 16, 2020
Here's what people are sharing on Twitter:
RIP Firdaus. No one ever looked even close to what she achieved with her memorable performance in Heer Ranjha. What an icon what a star!

— Mubasher Lucman (@mubasherlucman) December 16, 2020
Film actress Firdous Begum famous as " Heer " of Pakistani film industry passes away . May her soul rest in peace Ameen #firdousbegum #ripfirdousbegum pic.twitter.com/KftmL4BIiL

— Salman Hussain (@hsalman11051) December 16, 2020
Deeply saddened to learn that Veteran Actress #FirdousBegum is no longer with us. Her contribution to our industry has been immeasurable. Rest in power.💔 pic.twitter.com/ctso9u8u1C

— ( sara loren) (@saraloren101) December 16, 2020
We send our heartfelt condolences to the family and friends of the deceased. Pakistan has surely lost a gem but Firdous Begum will continue to live in everyone's hearts till the end of time and so will her work continue to always be appreciated and valued.