Pakistani politician and Special Assistant to Prime Minister, Firdous Ashiq Awan recently emerges as the Queen of sass, showing us her multifaceted talents and skills. From riding a motorbike, to claiming resemblance to Smita Patil, to offering coaching services to women cricketers to smashing tiles and warning against 'japphian and pappian' in wake of Covid, the politician seems to be nailing it all. 🙌
So we compiled a collection of all the times Firdous Ashiq Awan proved she is one of the biggest Queens you will find on the internet!
Take, for instance the time when she single-handedly rode a Rescue 1122 motorbike during a ceremony in Lahore. She claimed Maryam Nawaz is currently badly injured and she would be going to rescue her. She even wore the red helmet and vest of the rescue personnel. 🏍
Believe it or not, the queen also effortlessly smashed a tile, showing off her skills during a martial arts ceremony.
Earlier, Awan had won the internet over after a video of her kicking a football during a ceremony went viral. Afterwards, we also saw her playing cricket with the Punjab governor.
In a similar spirit, while speaking at the inauguration of Women Player Development Programme launched by the Pakistan Super League (PSL) franchise, Lahore Qalandars, Awan who was present at the event as Chief Guest offered to coach the women cricketers in Pakistan. She said "I used to play sports during my school days but at that time there was no proper coaching available. I understand cricket really well, so my coaching services are also available for women cricketers". 🏆
View this post on Instagram
Then Awan also came up with a new look, putting on boxing gloves saying it was in order to help the government in facing various challenges, including inflation. Talking to media, Awan, said that she had not worn the gloves for PDM, instead this time it was to punch poverty and joblessness.
Moreover, Awan is very innovative in the way she chooses to help Pakistani citizens with their concerns. Her manner of politics you could say is very up close and personal, as proved in this video where she went right up to a shop owner asking her if the money that she owns from her shop is enough to provide her with a comfortable living or not.
You would think this was all, but no the queen also has aspirations relating to the glamour industry and film stars. Twitter recently fell in love with her for fondly remembering that "College friends used to say I look like Smita Patil."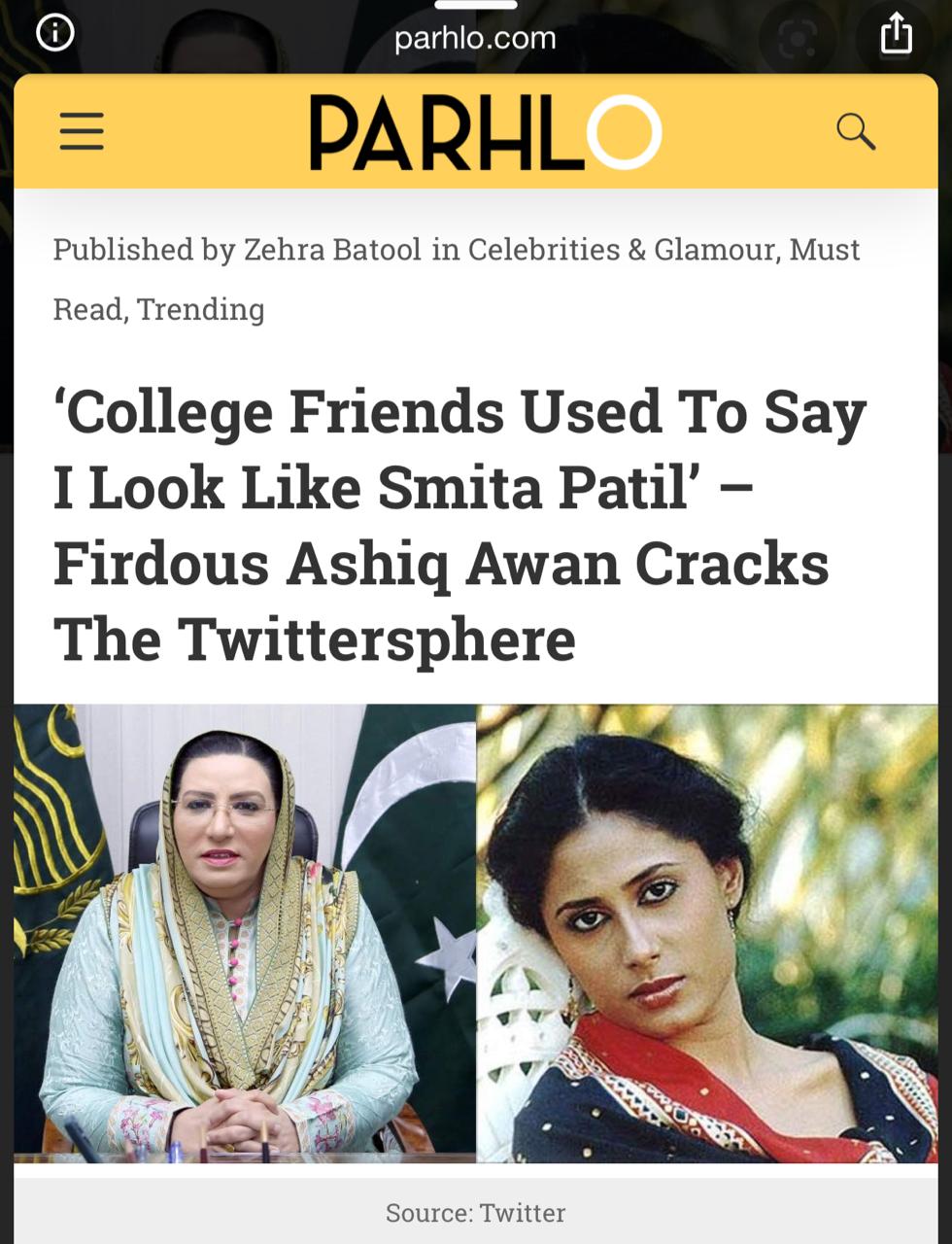 In most recent news, as Special Assistant to the Punjab Chief Minister Firdous Ashiq Awan announced that since Eid is approaching, in order to to prevent further spread of Covid the government wants Pakistanis to stay home . This entails no meeting family and friends, no hugs and definitely no kisses.
Awan asserted that there should be no meetings with families or friends, focusing especially to hold back on all the "jhappian and pappian" you may have planned.
Minister Information Punjab Firdous Ashiq Awan said No #Japhian and #Pappian on this #Eid2021🇵🇰 .@Dr_FirdousPTI pic.twitter.com/Kdn8NC1u04

— Daud Samuel Rajput95 (@DRajput95) May 7, 2021