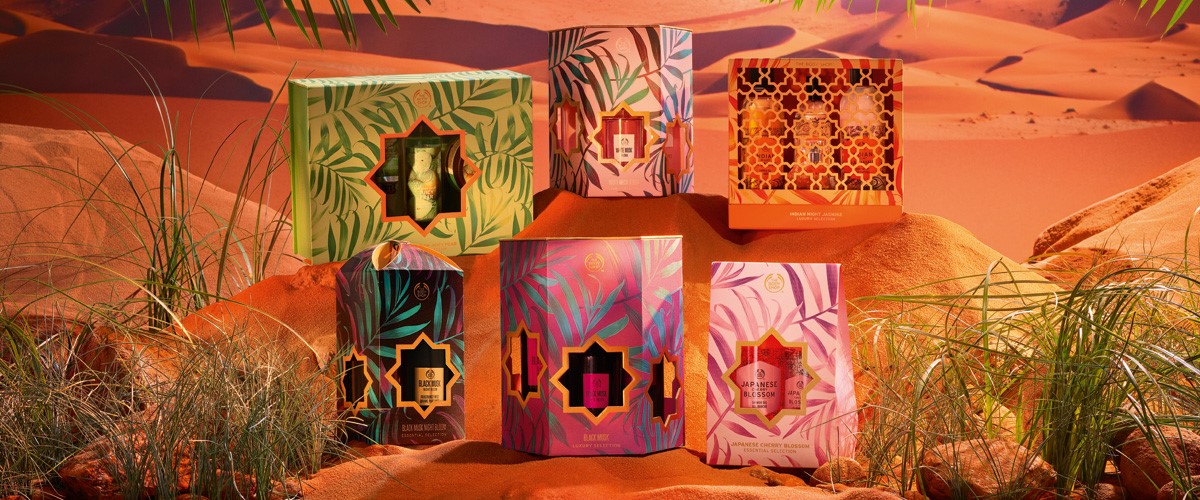 Find the Perfect Gift with The Body Shop NEW Eid Gifting Options!
Ramadan is a time to refresh body and mind. Although family & friends make up our entire world, it's never too late to show them how much they mean to us. This Eid, let us all revive the oasis of family, friends and community that flourishes in the springtime sunset by cherishing them and gifting them something special this time. The Body Shop's new collection of refreshing and luxurious Ramadan gifts and treats are a love at first sight and an instant delight!
Explore the oasis of refreshing and uplifting gifts with The Body Shop this Ramadan and Eid.
GLOW MORE VITAMIN C SKINCARE GIFT:
Get that fresh-faced glow that helps to keep skin looking bright and feeling hydrated with the Glow More Vitamin C Skincare Gift. Made with camu camu berries, these two little treats will give skin a daily boost of radiance for a healthy-looking glow.
Shop here: https://www.thebodyshop.pk/gifts/view-all/glow-more-vitamin-c-skincare-gift/p/866
BLACK MUSK NIGHT BLOOM LUXURY SELECTION:
Surprise someone special this Ramadan and Eid with The Body Shop's alluring, oriental Black Musk Night Bloom Luxury Collection. Inspired by flowers that bloom at night, the refreshing surprises in extra-big gift set are infused with notes of heliotrope, creamy ylang ylang, juicy red berries, sweet pineapple and warm, cruelty-free musk.
Shop here: https://www.thebodyshop.pk/gifts/view-all/black-musk-night-bloom-luxury-selection/p/857
PETAL-SOFT BRITISH ROSE PREMIUM COLLECTION:
Spread the love and spoil someone special this Eid with The Body Shop's beautiful British Rose gift. Unbox the scent of roses in bloom with the British Rose Eau De Toilette, cleanse and moisturize skin with their floral body care treats, infused with the essence of handpicked English roses.
Shop here: https://www.thebodyshop.pk/gifts/view-all/petal-soft-british-rose-premium-collection/p/863
IRRESISTIBLY JUICY STRAWBERRY PREMIUM COLLECTION:
A BERRY sweet gift for someone special this Eid, The Body Shop's fruity Strawberry gift. Unbox the juicy scent of sweet strawberries with the Strawberry Eau De Toilette and cleanse and moisturize skin with their refreshing body care treats, enriched with cold-pressed strawberry seed oil.
Shop here: https://www.thebodyshop.pk/gifts/view-all/irresistibly-juicy-strawberry-premium-collection/p/864
GET READY FOR EID BEAUTY CALENDAR
Make someone's Eid extra-special with The Body Shop's beautiful Get Ready for Eid Beauty Calendar, packed with skincare, make-up and fragrance products. It's the perfect collection for refreshing and prepping for party celebrations. In the run-up to Eid you can unbox favorites like our Vitamin C Skin Boost to glow all Ramadan, with make-up picks like The Body Shop's Eye Definer and Color Crush™ Lipstick for the perfect Eid party look.
Shop here: https://www.thebodyshop.pk/gifts/view-all/get-ready-for-eid-beauty-calendar/p/847
ABOUT THE BODY SHOP INTERNATIONAL
Founded in 1976 in Brighton, England, by Dame Anita Roddick, The Body Shop is a global beauty brand and a certified B Corp. The Body Shop seeks to make a positive difference in the world by offering high-quality, naturally inspired skincare, body care, hair care and make-up produced ethically and sustainably. Having pioneered the philosophy that business can be a force for good, this ethos is still the brand's driving force. The
The Body Shop operates about 3,000 retail locations in more than 70 countries. Along with Aesop and Natura, The Body Shop is part of Natura &Co, a global, multi-channel and multi-brand cosmetics group that is committed to generating positive economic, social and environmental impact.