New York Fashion Week came to a spectacular end last night with Marc Jacobs closing the week with a mix of color and hints of old Hollywood glam – but Marc wasn't the only one to have traveled a little back in time this season.
Tom Ford amidst crisply tailored suits and over-sized duchess satin skirts had some pieces that shined brighter than the silk – the plastic sculpted corsets and bodices, in sterling pink, Yves Klein Blue, electric green and brown.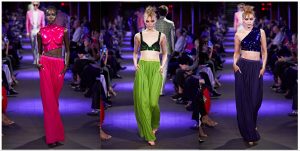 But this isn't the first time these body cinching molds of plastic have appeared on the runway. Lets take a look back at the fashion moments that seized the day with a sculpted bodice.
These sculpted bodices first appeared in a collaborative collection between Yves Saint Laurent and Claude Lalanne in 1969. Claude Lalanne and husband François-Xavier who were making organic sculptures at the time were commissioned by Saint Laurent to make a series of casts of the model Veruschka's body that were worn with two diaphanous chiffon dresses, one blue and the other black.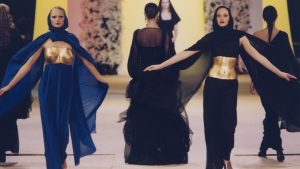 The Bodice :
Issey Miyake experimented with Plastic, Rattan and wires for his finale piece in his A/W 1981 collection. The relationship between the body and the garment was explored through this bodice which was sculpted around the torso of a women , subverting the concept of clothing as a covering separate from the body.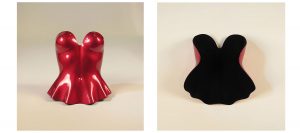 Tom Ford experimented along the same lines with the following Bustier for his Rive Gauche collection for YSL in 2001.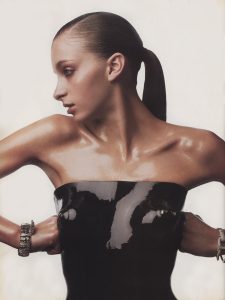 These sculpted body molds appeared frequently during Alexander McQueen's theatrical shows over the years. Alexander who collaborated with Patrick Whitaker and Keir Malem on many instances explored mediums like metal wire cage, plastic and leather for these body sculptures.
During his 1996 show,Lee sent out his models sandwiched between transparent layers of plastic, filled with live worms – a narrative of horror, fantasy and fetishism in fashion.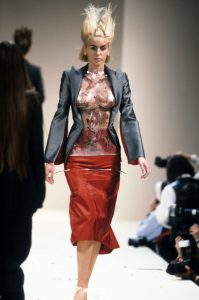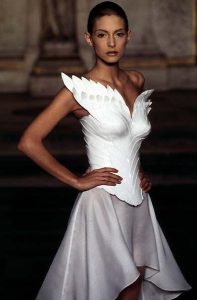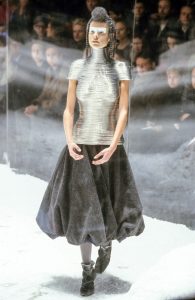 From Top to Bottom Alexander McQueen 1996 – 1997 – 1999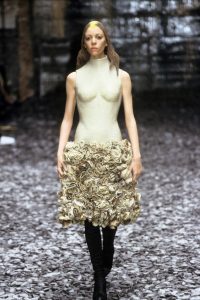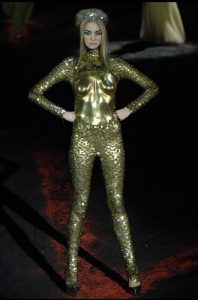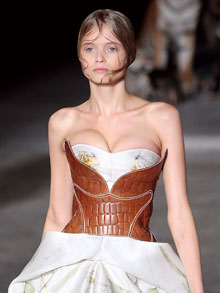 From Top to Bottom Alexander McQueen 2000, 2007, 2009
On one Instance Model Abbie Lee Kershaw ( pictured above) fainted by the end of the walk because the corset was too tight.
McQueen also took his fascination of corsets to Givenchy and created the following looks – only to be criticized later.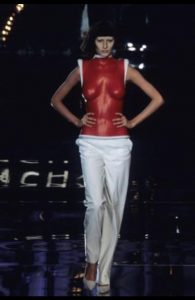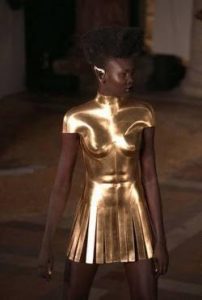 Only last season Designer Ludovic De Saint Sernin presented his collection as an ode to the muses of the past. The opening look ? A fluid model walking out in body piece inspired by the Lalanne scupltures.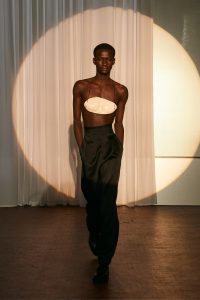 Over the years these sculpted breastplates have raised debates around the ideas of objectifying woman while others have stuck to notions of empowerment, eroticism and fetishism through them.