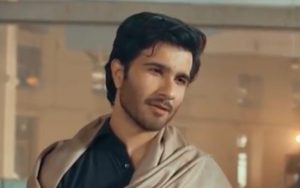 Feroze Khan says there is nothing toxic about  Farhad from Khuda Aur Muhabbat 3.  The actor was in conversation with journalist, Haroon Rashid on BBC Asian Network where he was asked about his 'toxic male characters' in dramas like Khaani, Ishqiya and Khuda Aur Mohabbat to which Feroze said that his characters have never left a bad influence on the society as they always had a deep message at the end and he himself had learnt a lot from his negative characters.
Talking about Khuda Aur Mohabbat 3, Haroon asked Feroze about his toxic and stubborn behaviour towards Mahi (Iqra Aziz) in the drama to which Feroze said that everyone has their own opinion and perspective towards Farhad's character and to him Farhad is a very innocent guy who just got very confused with Mahi's attitude towards him.
He said, "Farhad was being stalked by Mahi first, she gave him that importance, had eye contacts with them and then further shows him that she trusts him by sharing a secret. All this made Farhad think that Mahi is showing interest in him which made him feel and assume a connection between the two."
He further added that there are many in our society who take 'No' as a challenge rather than an answer and he thinks that Farhad's character is not at all toxic or negative as he never craved for a girl's attention and just fell in love with how Mahi treated him at her friend's wedding. Feroze said that he is only focusing on the appreciation he is receiving from fans and is just very glad to see how each episode has almost 50 million views on YouTube.
We cant deny the fact that Khuda Aur Muhabbat 3 is one of the most watched drama these days and has been trending on all social media platforms as the drama has some brilliant actors and is a power-pack of performances. Let us know about your views in the comments section on our Instagram page.