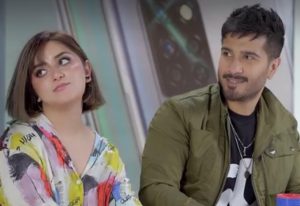 Feroze Khan comes to Alizeh Shah's defence after harsh criticism. The actress was trending on micro-blogging sites as soon as her music video released of her debut song with Sahir Ali Bagga. People were accusing her of wearing vulgar clothes and twitter was full of memes and some hate comments under her pictures.
Soon after Alizeh was seen in an unboxing video of a mobile phone along with Feroze Khan and was again under fire for making inappropriate outfit choices. Her pictures were edited and circulated on the internet with comments filled with hate saying that she has lost all her respect by wearing such revealing clothes and many wrote that she should be banned as she is promoting vulgarity in our society.
Recently Nida Yasir and Yasir Nawaz made an appearance at 'Time Out With Ahsan Khan', where Nida said that her husband is a very easy going person and he never had any issue as a director with any actor, however, he had a hard time working with Alizeh Shah as both could not build up a nice on-screen chemistry.
Yasir Nawaz said, "Actors should keep their private life separate when they are playing a character in the drama and i was asked to increase the episodes as the drama was doing very well but i refused by saying that we can only cut down the number of episodes but i will never increase them".
Feroze Khan took to his official twitter account and said that it is not right for senior actors to name and shame new actors. He further added that he has worked with Alizeh Shah and it was a great experience and is looking forward to do more projects with her in future. He also recalled how he was bullied in the industry and said that new actors who have no help nor any of their relatives are part of the industry are already struggling and we should not add up to their struggles making them feel embarrassed or shatter their confidence.