Share this
The heartthrob Feroze Khan got married to Alizey Fatima last year and since then fans have been gushing over the couple. Alizey herself became a star overnight with millions of followers as soon as she came up with an official instagram account. The beautiful couple is for sure is very much in love as every picture they post on the internet shows an amazing chemistry wrapped with affection for each other.
Soon after Feroze Khan posted a picture at which in a reply to his wife's comment he gave a hint that the couple is expecting a child. Rumors got a bit more heated when the couple was recently photographed at a wedding where Alizey looked visibly expecting though the couple remained tightlipped.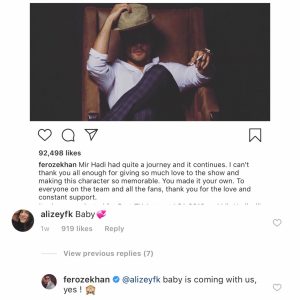 Feroze Khan has confirmed the news in a recent interview that the couple is very much excited to welcome their first child this summer. He further revealed how his marriage has changed him into a better person and how anxious he is about becoming a father for the very first time.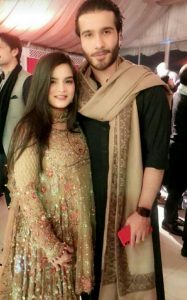 Parenthood is a huge transition as both the parents-to-be prepare for perhaps the biggest change in their lives. As a grand adventure begins for Feroze and Alizey we would like congratulate them sending lots of love and best wishes!!
Share this