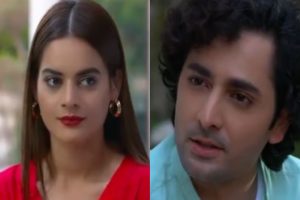 Fans are in love with Minal Khan and Danish Taimoor's on-screen chemistry in drama serial, Ishq Hai, airing on Ary Digital. The drama is directed by Aabis Raza, produced by Fahad Mustafa and Ali Kazmi under the banner of big bang entertainment.
View this post on Instagram
The drama has an intense story line and revolves around Shahzaib (Danish) and Isra (Minal). It started off with showing a love affair between Shahzaib and Isra and how eventually the relationship gets toxic between them due to Shahzaib's anger and possessiveness.
Shahzaib who is crazy and over-possessive about Isra gets married to her forcefully, due to which Isra's father passes away creating a turbulence between both the families. As the story unfolds further both Shahzaib and Isra have started to settle down with each other, fans are completely in love with their on-screen chemistry.
OMGGG they're so cute💘🙈

This scene has my whole heart! 😍❤#IshqHai pic.twitter.com/LPJTkg1lnz

— 𝑍𝑎𝑟𝑎♡ (@tweets_by_zara) August 5, 2021
The way he looks at her is so adorable yaarrr😣❤️
Literally obsessed with them💜#IshqHai pic.twitter.com/AW1BouXJ88

— AzkaLicious🌻💜 (@its_azkaa) August 5, 2021
Isra! Mujhy na chor k jaany k liye thank you.#IshqHai #DanishTaimoor #MinalKhan pic.twitter.com/9eSq4zMOCD

— Zulfiqar Ali (@Iam_ZulfiqarAli) August 5, 2021
One of the best scene today episode #ishqhai #raqsebismil #yaarnabichray #khudaaurmohabbat3 #koichandrakh #merepasstumho pic.twitter.com/bPeR0pxLM3

— Habib K h a ن (@realhabibkhan) August 3, 2021
#ishqhai is such a good drama 🥺

— Sanna ♡ (@_sannak_) August 4, 2021
Me door chala jaunga tumse 💔 Age ise me tumhri khushi hai to aisa hi sahi 💔😭 #ishqhai pic.twitter.com/XkfuSXfUV2

— Tahaaniye (@tahaaniye) August 3, 2021
Kia Ap bhi kbi apne kisi piary ki shararton ko yad kr k roay hain???😣
Emotional too much emotional episode #ishqhai pic.twitter.com/Z97LH3Ddw7

— Celebrities Magazine (@shafaq_rubab) August 5, 2021
@danishtaimoor16 Zindagi Bas Ap Jaisa #Ishq Karne Wala Insan Chahti Hun 💕 Meri #Sadgi Dekh Mein Kia Chahti Hun 😊😊😊☺☺☺ #IshqHai pic.twitter.com/Tkq1tYYQFz

— Boom Boom Nazii Ibrahim 💟 (@BoomBoomNazi_NI) August 4, 2021