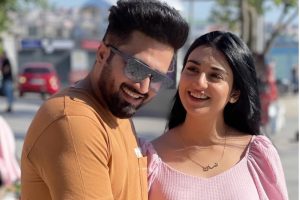 Falak and Sarah give a sneak peek into their baby's room and fans started to speculate the gender. Falak  posted a cute video with a heart-warming rhyme in the background and gave a complete tour of their baby's room. 
View this post on Instagram
The room decor was beautiful and the highlight was the 'pink colour' which made fans think that the couple might be expecting a baby girl. Sarah and Falak have always been the in the spot-light since the two got married and Falak's daily routine of gifting Sarah a rose has been very famous on the internet.
Sarah has been sharing her journey by posting some adorable pictures and the couple has just announced that their baby will be arriving soon from which we can assume that Sarah is going through the last trimester of her pregnancy.
May Allah Almighty grant them with the best of health and keep all evil eyes off! Ameen.